Toy Fair 2019: The Best Toys, Games, and Products
From stuffed animals and STEM sets to a transforming Batmobile and some incredible Star Wars LEGOs, here are the best toys we saw.
by Fatherly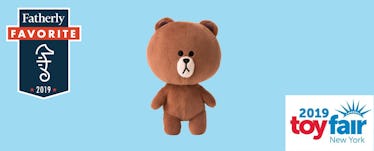 The 116th New York Toy Fair took place this weekend at the Jacob K. Javitts Center in Manhattan. There were costumes. There were life sized transformers. There were more than 100,000 new toys and games, from construction kits, coding sets, and surprise toys to licensed action figures, stuffed animals, and tons of wild tech, on display. There was a lot to take in — and brands came to play with a lot of outstanding new toys intended to teach and entertain kids. While it's hard to come up with a definitive list of all the great items we saw, these are the 15 toys, games, and products we thought stood out. Take a look.
Best Ride On Toy: Berg Go 2
Some of our favorite toys are those that grow along with your child. This pedal car, available in mint, blue, and pink, is one such product. The pedals tuck into the sides so children aged 10-30 months can get the hang of scooting before they're ready to ride. As narrow rear wheels are close together, it provides enough clearance for tiny scooting legs, while the tires never go flat. The entire cart is well weighted and stable enough to prevent tipping during the learning curve. Available now.
Best Construction Toy: Lego 20th Anniversary Star Wars Pod Racer
Lego has been working with Star Wars for 20 years. In honor of that, the brick makers released a new line of anniversary toys. There's a lot to love, including a more than 1,000 piece replica of Boba Fett's Slave I ship and an Imperial Dropship. Our favorite, however, is Anakin's podracer from The Phantom Menace. The 279 piece set, which comes with minifigures of Anakin, Luke, and Padme, is a fun, affordable replica of the custom-built racer. Expected out later this year.
Best Stem Game: Think Fun Thinking Putty Puzzle
Joining forces with Aaron's Crazy Putty, the folks at Think Fun arrived at this clever game that works as an analog version of the popular iPhone game Flow. Using lines of putty, players must form connections to color-coded dots along the board without making any of the lines intersect. There are 60 different challenges to complete with bridges and blockers coming into play to add to the difficulty while building STEM and spatial reasoning skills.
Best Vehicle: Imaginext DC Super Friends Transforming Batmobile R/C
This remote control version of Batman's iconic ride is full of surprises. It moves forward and backwards, yes, but press a button on the controller and it opens up into a fully loaded super vehicle. It's the kind of superhero toy any kid would enjoy driving around, patrolling the playroom and taking out enemies. Look for it later this year.
Best Board Game: Playmonster Yeti Forgetti
PlayMonster never fails to come up with clever, attention grabbing games for young minds. This latest version of the brand's Yeti-centric franchise (if you've never played Yeti in my Spaghetti with your kids, you're missing out) is a simple memory match game. Kids draw cards and can peek under various igloos and move them around ala a shell game to try to remember where the Yetis are hiding. Fall 2019.
Best Summer Toy: Big Mouth Inc Demogorgon Sprinkler
Big Mouth has made a name for itself by making enormous inflatable sprinklers (Giant Unicorns, Dinosaurs) that connect to hoses for summer fun. One of their latest is an homage to the flower-faced creature from Stranger Things and, while it might spook younger kids, the pop culture joy of it is reason alone to consider setting it up when the sun is out. Expect it out this summer.
Best Robot: Thames & Kosmos Air-Walker
This STEM building set tasks kids with building a four-legged bot that uses an system of suction cups and pumps to crawl along vertical surfaces. The completed looks like a friendly, window-walking version of a Spider-Man villain, in the best way. Look for it later this year.
Best Doll: Blume Dolls
Surprise toys are still all the rage and this line of dolls appears to be poised to dethrone Hatchimals or even LOL Surprise. Each comes inside a pot. Add some water and the doll slowly sprouts up — multi-colored coif of hair first. Each doll has its own specific look and accessories and its own pot-based playset. Summer 2019.
Best Flying Toy: PowerUp 4.0
In adding some oomph to paper airplane kits via tiny, Bluetooth-connected engines that sit in the fold of the plane, PowerUp brought some new fun to an old-school activity. Their latest engine, the 4.0 (note, the photo shows 3.0) has two propellors and additionally maneuverability, so that users can perform more stunts and tricks when controlling planes with their phone and collecting real-time flight data. Look for it in fall 2019.
Best Art Toy: Twee Mason's Planets Sidewalk Chalk Set
Twee specializes in making sidewalk chalk sets designed to look like donuts, unicorn horns, and slices of pizza. Their latest set is modeled after the planets in our solar system. Each looks like a large jawbreaker, and much like the candy, there are different levels of color revealed the further the chalk wears down. It's a beautiful set and, best of all, $2 from each sale go to benefit autism research.
Best Toddler Toy: LeapFrog LeapBuilders ABC Smart House
This building set tasks children 18 months and older with creating a house from more than 60 block components (doors, windows, etc.) The colorful set has a secret though: blocks have interactive buttons on them that, when pressed, play music, explain letters and colors, and ask questions that require kids to insert the correct block.
Best Squeeze Toy: Ocean Buddies from Tikiri
Made sustainably in Sri Lanka with locally sourced rubber, these chewable are made for the bath (no holes for mold), but perfect for all times. They jingle slightly and feel good on the teeth. Some profits go to help clean up the ocean. Everyone wins.
Best Outdoor Toy: Two Bros Bows
Designed by young brothers, there's nothing complicated about these bow and soft arrow sets, which are the ideal prescription for kids who want to shoot each other with fake guns. They take some skill to use, but what you see is what you get and it's enough.
Best Nostalgic Toy: Tiki Toss Free Toss
Free Toss is less of a nostalgic call back than a melding of two great time-consuming solo games that solves the problem with both. All the fun small-scale joy of mini basketball mixed with all the small motor skill building of swinging a ring onto a hook.
Best Stuffed Animal: Gund Line Friends "Brown"
Built on the massively popular sticker and emoji franchise, this new line of Line Friends is joyful top to bottom, but the bear stands out. With his big round head and inscrutable expression, he may be the world's first truly great, truly deadpan Teddy Bear.
This article was originally published on