The Best Toy Airplanes for Toddlers and Kids, According to a Child Development Expert
Travel is still fun in the Land of Pretend.
by Donna Freydkin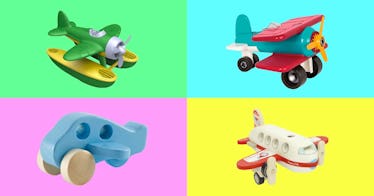 At some point, every child dreams of sitting in a cockpit and flying high above the clouds. Even as air travel has become less common (and less and less comfortable), the glamour and adventure remains. There's something intrinsically glorious, and magical, about piloting your ship across the open expanse. The most concrete manifestation of that freedom is the toy airplane. A simple toy with wings and a propeller is a key part of pretend play, as children imagine themselves soaring through the clouds as the next Amelia Earhart or Wilbur Wright. And they're also a great toy for younger kids, because moving planes on the ground and in the air helps them develop fine and gross motor skills.
Toys like planes help with visual tracking, which is "the ability to follow a person or object with our eyes as it moves across our visual field," says Rebecca Parlakian, an expert in infant-toddler special education and the senior director of programs at the child development organization Zero to Three. Plus, they help with fine motor skills, otherwise known as the ability to "use the muscles in our hands and fingers to perform a task. And it's a sensory experience as well as an important cognitive process: Learning how the objects in their world work and predicting what they can do with a particular object."
The Best Toy Airplanes for Toddlers and Preschoolers
The Best Toy Airplanes for Kids
Every product on Fatherly is independently selected by our editors, writers, and experts. If you click a link on our site and buy something, we may earn an affiliate commission.
This article was originally published on