Tosan's Adventure Pack Is A 2-in-1 Diaper Bag For The Gentleman Baby Changer
Talk about a game changer.
by Dave Baldwin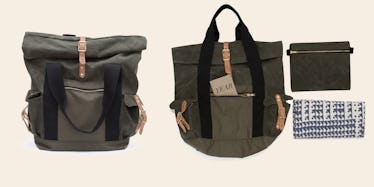 It's the great diaper bag debate: Tote versus backpack. One boasts more space and convenient access. The other's easier to carry and decidedly less emasculating. But, what if there was a single bag that combined the benefits of both, and had handsome styling and rugged accoutrement like leather straps and brass metal finishes? Redirecting your attention to Tosan's new 2-in-1 hybrid.
From the guys behind your favorite "Pop" coffee mug, the Tosan Convertible Adventure Pack is a heavy, waxed canvas tote that transforms into a rolltop backpack depending on your situation. Need extra space at the beach for toys and towels? Use it as a carryall. Trekking around the city or going hiking in the mountains? Pull out the straps and throw it on your back. There are 6 pockets (3 internal and 3 external), a detachable pouch, and a custom diaper changing pad so rash cream and Cheerios never have an accidental encounter.
The only hangup with the bag appears to be that everybody wants one, and they're currently out of stock. No need to bow to your wife eyeing that paisley Vera Bradley bag. Sign up on their site here, and you'll be notified when they start accepting orders.
This article was originally published on