The Best Car Seats Under $100 on Amazon
Sure, expensive car seats offer more bells and whistles. But you can get some of the best car seats on Amazon for under $100.
by Dave Baldwin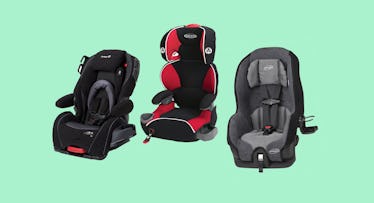 It's easy for new parents to get sucked into paying a lot for baby gear. There's a certain stigma attached to cheaper products ⏤ be they car seats, strollers, or swings ⏤ and many parents assume, often incorrectly, that they're not as safe or as well made as their more expensive counterparts. In some cases, that may be the case. But in most, the lower-priced products are as competent ⏤ just with fewer bells and whistles. Still, many parents will rationalize the costlier purchase.
READ MORE: The Fatherly Guide to Car Seats
But for families on a tighter budget, there is often no second choice. Raising kids is expensive, and you're not driving them anywhere without a car seat. So which are the best car seats under $100 that offer the most bang for least buck? We looked to Amazon for the answer ⏤ identifying the most highly reviewed car seats and boosters on the site. Our criteria were simple: A seat had to score a solid 4 or 5 stars, nothing less, and it had to have more than 850 (often many, many more) reviewers ⏤ no 5-star seats with only 12 comments allowed. In the end, these were the five most recommended car seats.
Safety 1st Alpha Omega Elite Convertible Car Seat
This popular all-in-one convertible seat from Safety 1st transitions from rear-facing (up to 35lbs) to forward facing (up to 50lbs) to belt-positioning booster for kids up to 100lbs or 4'4″ tall ⏤ which means only one car-seat purchase per kid. It has three reclining positions, side-impact protection, and a removable infant head support, not to mention rotating armrests and a detachable cup holder. It also boasts a solid 4-star rating on 1,700 reviews.
What One Reviewer Said: "Was in a major car accident with it. Car was going 75 mph, flipped 3.5 times landing us on our roof. Car was crushed on every surface and we sustained medium level injuries. Our 11-month-old son didn't have a scratch. We've already ordered it again, thank you for making this car seat!"
Buy Now $98
RELATED: The Best Baby and Toddler Car Seats
Evenflo Amp High Back Booster Car Seat
The single most-reviewed car seat on Amazon with 4,145 reviews (85% of which are 4 or 5 stars), the Evenflo Amp booster is a popular choice for budget-conscious parents. It's also incredibly safe, scoring a 75 from Consumer Reports. The Amp holds kids from age 3 up to 100lbs, offers six height adjustments as they grow, and features a removable back to make it lighter/easier to take on the go. Plus, cup holders.
What One Reviewer Said: "I purchased this seat for my 6-year-old at the recommendation of a car seat technician. I had just purchased a minivan and was told most booster seats wouldn't work well in the third row, and that this seat was good to buy. Assembly was quick and easy. This seat is very lightweight compared to the one we had previously, which is a huge plus. And it is easy to adjust to my son's height to get a proper belt fit."
Graco My Ride 65 LX Convertible Car Seat
Last year's recall notwithstanding (the seat is now safe), the My Ride 65 is a popular, lightweight (15.7lbs) convertible seat that can accommodate kids from 5 to 40lbs rear facing and up to 65 pounds aimed forward. It's side-impact tested, employs EPS energy-absorbing foam, and has a built-in level indicator to make sure it's installed properly. It received the fewest number of reviews on this list at 888, but it scores a solid 4.5 stars and is only returned 19% of the time.
What One Reviewer Said: "This seat is very sturdy and well-padded. As an amateur race driver, I really appreciate the way it is correctly bolstered, is pretty heavily reclined (helps prevent basal skull fractures), and has a removable extra bottom cushion and super-thick side-impact head cushion. The buckles work great. It can be wiped down easily. Only downsides are the cup holders aren't removable for washing, and it is pretty bulky (result of it being pretty far reclined), so the kiddo's legroom ends up being a bit tight when I sit in front of it."
Evenflo Tribute LX Convertible Car Seat
Designed to be lightweight and compact, the Evenflo Tribute measures 18-inches wide and weighs only 9.1lbs ⏤ ideal if you're trying to squeeze multiple seats across the car. It handles kids up to 40lbs or 40-inches-tall ⏤ first rear facing, then forward ⏤ and offers four shoulder strap harnesses and two crotch-buckle positions to ensure a safe secure fit. The pad is machine washable, the cupholder removable, and best of all, it's certified by the FAA for use on planes. It also receives a solid 4 stars on 3,270 reviews.
What One Reviewer Said: "Great seat for the price. We have three kiddos 2yrs and under, and we travel frequently. This seat is lightweight, safe, and exactly what we need. The kids always seem comfortable on extended trips. The seat transfers easily between cars (although I've needed to roll a towel to prop the car seat at the correct angle when rear facing in every vehicle we've used). It's 18″ wide and we are able to fit three seats across in our Pathfinder, while still keeping the youngest two rear facing as recommended. It's FAA approved, and weighing in at 9lbs makes flying with it easy. A few irritations with it, as others have mentioned (catches your finger when loosening strap, straps twist easily, limited time of use if your kiddos are taller or chubbier than average). Overall though, we are big fans and recommend it!"
Graco Affix Youth Booster Seat
The beauty of the Graco Affix is that it uses a latch system to ensure it sits snuggly in place, which makes it easier for older kids to buckle themselves in. It's lightweight at 10lbs, holds kids up to 100lbs or 52-inches tall, has an adjustable back, and even rocks a built-in cup holder and hide-away storage compartment for snacks and Legos. And in terms of popularity, 73% of its 2,500 reviews are 5 stars.
What One Reviewer Said: "This is our second Graco Affix booster, and we love them. The seatbelt positioner keeps the seatbelt in place perfectly, the seat is easy to convert from a high-back to a seat-only booster, the latches are easy to secure (and you can use it without the latch too), and my kiddos say that it's very comfortable. We will definitely purchase another one of these when our last kiddo is old enough for a booster!"
This article was originally published on