Tom Hanks' 'SNL' Espresso Maker Is Actually Awesome
It also shockingly, somewhat affordable.
by Donna Freydkin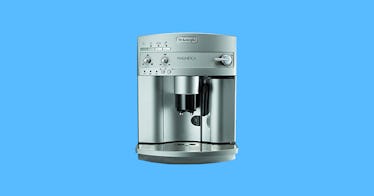 Tom Hanks is the human equivalent of a cappuccino: Smooth, sweet, and bracing. He was the first celebrity to go public as having Covid-19, putting a very famous human face on the pandemic. Since then, he's hosted the first Zoom-version of Saturday Night Live. But let's be honest: The best part of his gently funny monologue was a glimpse into his kitchen. And the standout item happens to be something every parent needs: One of the best espresso machines you can buy.
At-home espresso machines are generally so difficult to use that you need a degree from a culinary school (or engineering program) to correctly operate one without burning your digits. Hanks, however, has managed to source one that's actually fairly simple to operate. The De'Longhi coffee maker has 13 adjustable settings to grind fresh beans to your exact specification.
It has 5 settings so you can choose your desired coffee strength. If you like coffee that grows hair on your back, this machine brews a cup that's strong enough. If, however, you prefer lighter java, it does that too. The brew unit self-adjusts for one or two shots of espresso, so it basically does the thinking for you.
You can make use it to make espresso, cappuccino, latte, or an Americano. Oh, and it preheats your cups because of course it does.
Every product on Fatherly is independently selected by our editors, writers, and experts. If you click a link on our site and buy something, we may earn an affiliate commission.
This article was originally published on