The Best Toddler Tables and Chairs That Aren't Eyesores
by Elizabeth Alterman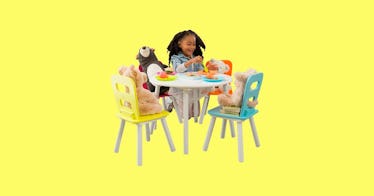 All the world's most ambitious plans, indispensable inventions, and architectural masterpieces have at one point or another been unfurled dramatically on a worktable, where great minds can go to work. It's no different with toddler tables and chairs, which give kids a space of their own to draw their artistic masterpieces, build Lego structures, and break bread together during snack time. At the same time, the best toddler table and chairs allow you to protect your fancy, adult dining tables and upholstered chairs from the horror shows we call slime and kinetic sand. And all this is especially pertinent as so many youngsters begin preschool, or pre-K, remotely, thanks to the COVID-19 pandemic.
When choosing toddler furniture sets, make sure you get a set that's the right size for your child's age and size, but can also grow with them. You don't want something minuscule that you'll throw out in six months. Kids' chairs tend to stand 10 to 12 inches off the ground, making them easy for kids to manage without requiring assistance to get up or down. The chairs you choose should be sturdy and durable enough to support older kids too. Consider how many chairs you need, how easy the set is to assemble and to clean, and whether you want to keep it out or store it when it's not being used.
The Best Toddler Play Table & Chair Sets
Every product on Fatherly is independently selected by our editors, writers, and experts. If you click a link on our site and buy something, we may earn an affiliate commission.