6 Best Toddler Beds for Every Style, Room Size, and Budget
by Donna Freydkin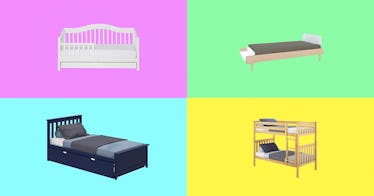 So your kid has started pulling a MacGyver and escaping from his or her crib, and you're ready to transition to a toddler bed. Sure, most cribs now convert into a bed for toddlers, once you remove the slats. But most likely, your child will ask for (and be big enough) for an actual big-kid bed so he or she can feel like, you know, a big kid.
"Kids needs to transition from cribs when they're close to being able to fall out. A lot of cribs transition to toddler beds," says Dr. Benjamin D. Hoffman, the chair of the American Academy of Pediatrics' Committee on Injury, Violence and Poison Prevention.
Hoffman's guidelines for toddler bed-buying are simple:
At around 18 months, most kids are ready for their own bed.
At that point, make sure it's close to the ground, to minimize any injury risk if they fall out.
Put a rug under it, for the same reason.
And if there are any stairs involved in the hallway or anywhere a kid can get to, use a baby gate.
Side rails on the bed are fine, as long as they're securely attached and don't have big gaping holes.
Toddler Bed with Storage
Toddler Trundle Beds
Every product on Fatherly is independently selected by our editors, writers, and experts. If you click a link on our site and buy something, we may earn an affiliate commission.
This article was originally published on