Today's Best Sales: A Fjallraven Parka, Todd Snyder Timex, and Cutting Edge Iron Man Toy
If it's tough enough for Swedish winters, it can definitely keep you warm.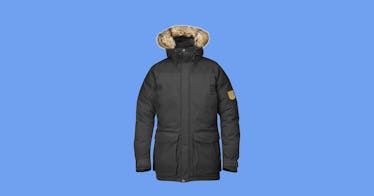 Every day, the Internet is teeming with deals, sales, discounts, and savings. But, as the Internet is a big, distracting place, said deals can be difficult to find. Plus, you don't have time to sniff 'em all out. You have work and kids and a total of 25 minutes of free time that shouldn't be spent looking for discounts. So, to help you put, we'll be combing through the daily offerings and rounding up the deals we like, and think you might find useful. Today: check out deals on a Fjallraven winter coat, a retro Timex Ironman watch, and an Avengers: Infinity War augmented reality toy that seems straight out of Stark Industries.
Fjallraven Men's Kyl Parka
It's October, which means that even though the weather is only now crisping up for fall it's a great time to make sure you're ready for winter. One of several discounted Fjallraven items at Mountain Steals is this parka from the trendy Swedes. Its down filling and fleece lining will keep you warm, and the exterior fabric is windproof, UV-blocking, and breathable. You can adjust and remove the faux fur hood to your heart's content, and the whole package, which normally will run you $800, can be had for just $460 when you buy today.
Timex + Todd Snyder IronMan Digital Watch
Not many digital watches become style icons, but the Timex IronMan isn't just any digital watch. First released in 1984, this collaboration between the watch company and the IronMan Triathlon included a ton of features — 200 meter water resistance, 99-lap counter, Indiglo night light, 100-hour chronograph — specifically for triathletes. But its popularity grew beyond the athletic community to anyone who wanted a tough, reliable timepiece. Todd Snyder's reissue is just $59 on its official website today; a great deal on an American design classic.
Hasbro Marvel Avengers: Infinity War Hero Vision Iron Man AR Experience
The era of augmented reality toys is here, and this Iron Man mask is a showcase for what the technology is going to bring to the market. A smartphone running the Hero Vision app straps into the mask and connects to the included gauntlet. When they put on the mask, kids see the room they are standing in filled with 3D enemies. They can defend themselves and attack their foes using the gauntlet. The end result is an immersive, interactive play experience that feels completely novel and exciting. Save $20 when you buy this future-facing toy today at Best Buy.