Tinkering Labs DIY Kit Lets Your Kid Make Projects Out Of Anything
One man's trash is another man's "creature with spinning arms."
by Alison Zeidman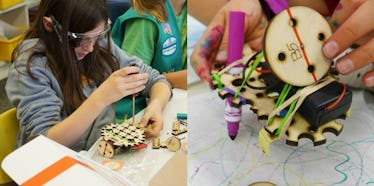 Tinkering Labs
Toys with step-by-step instructions aren't always the most kid-friendly. Your kid makes the same face screwing up a LEGO build as you do putting together an IKEA bedroom set. Give them a way to build stuff without having to worry about getting it "right." That's the philosophy behind Tinkering Labs, the toy company that's less do it yourself, and more do anything yourself. Their kits provide STEM-based challenges to get kids out of a rigid, model-building mindset, and into open-ended play. For example, they can "make a machine that can scramble an egg," or "build a creature with spinning arms," or "construct a robot that will give you enough time to take a nap."
The basic Electric Motors Catalyst starts at $45, and includes everything they need to build: Tools, markers, a battery pack, wooden parts, electric motors, and rubber bands and hardware to make connections and axles. It's also made to work with any kind of household item that might be hanging out in the junk drawer. If you want to get serious, the Catalyst 10-Pack has 10 full individually packaged kits for $399 so on the next rainy day, the whole family go HAM on some STEM.
The best part: Tinkering Labs catalysts are designed to be taken apart and rebuilt continuously — as many times as your kid's imagination can handle. (Imagine never having to set foot in a toy store again — or at least for a few months.) If you need more parts, or have to replace the ones your kid inevitably loses/breaks, you can purchase additional expansion packs. Or, you can just check the dumpster behind Radio Shack.
This article was originally published on