Tinitell Is A Mobile Phone For Kids That They Wear On Their Wrists
Tinitell is a colorful, easy to use, Dick Tracy-styled 2G wristwatch phone with a micro SIM card aimed at kids 4 years and older.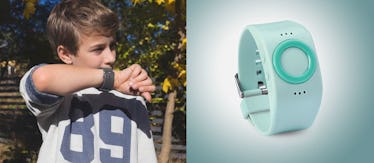 The decision on whether to give your kid a phone or not is by far one of the biggest dilemmas facing parents today. You want to know where they are and that they're safe (without looking like Magnum P.I. on a stakeout) but you also don't want your 6-year-old staring at a screen all day. After all, you do enough of that at work for the whole family. Fortunately, Tinitell solved the problem for you.
What they came up with is a Dick Tracy-style wristwatch for kids; no screen. It's not a smartwatch, but instead, it's a legit mobile phone with micro SIM card designed specifically for children 4 years and older. That means it's also colorful (their choice of aqua, charcoal, coral, or indigo), made of rugged splash- and dirt-resistant plastic, and simple to use. All they have to do to make or receive calls is press the button in the middle. And then … that's it.
There are 2 scroll buttons on the side that announce the time (it is a watch, after all), control the volume, and let your kids choose who to call. You? Mom. Maybe grandma once in a while? Those numbers (up to 12 in all) are pre-programmed and stored using an app on your phone (available for iOS and Android).
Speaking of the app, don't tell Junior, but Tinitell is also a GPS tracker if you want to see whether they got home from school, locate them in an emergency or if you're not sure of their whereabouts, or if they lost track of time and forgot to come home for dinner. Simply pop open the map and it displays their location.
Finally, the lithium ion battery lasts 2 days on a full charge when used exclusively as a phone (one day if GPS is on), charges using a magnetic dock on the back, and has LED indicators to let you know how much juice or charging time is left. In terms of coverage, it works with any cell carrier that offers 2G service (T-Mobile, Ting, etc.) but comes pre-loaded with a SIM card from TING that runs about $9 per month. When you think about it, that a small price to pay to instantly get in touch with your kid. Or you can stick to your plan of growing a Selleck 'stache and following your 7-year-old around in a 1984 Ferrari.
This article was originally published on