The Thule Chariot Bike Trailer Is My Favorite Family Vehicle
My kids sit shoulder-to-shoulder crushing snacks as I crank out the miles.
by Jeff Foss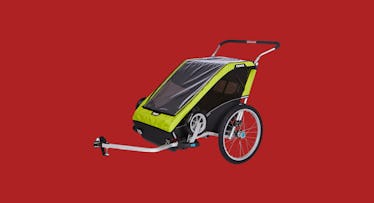 Early on in my wife's pregnancy, I set my sights on the one piece of kid gear I really wanted: a bike trailer. I had heard that the run-up to having a baby feels like one long Amazon-Prime purchase ⏤ it's incredible how much crap you end up buying ⏤ and I knew I wouldn't have the stomach (or funds) for big-ticket items towards the end.
Turns out, my pursuit was premature: Kids shouldn't even ride in these things until roughly the age of one. Since our son was (according to the app on my wife's phone) barely the size of a walnut, it would be awhile until we needed a trailer. That gave me plenty of time for research.
I pulled the trigger when he was about eight months old. With some help from the in-laws, we purchased an older version of the Thule Chariot Cheetah XT 2 ($600). I'd owned a Thule bike rack and rooftop box since college, so I trusted the brand. I also liked the roomy interior (it seats two kids comfortably), sturdy 20-inch wheels, and ample cargo space.
Yes, I sound like I'm talking about a family sedan, but that's how I see my Chariot: as a means of access. We live on a major bike thoroughfare that connects several great parks, open spaces, and a neighborhood pool. Our trailer lets us experience all that (and more) without having to pile into a car.
Gearing up for a ride is easy. The towing happens via Thule's Axle Mount ezHitch (included). This is basically a custom skewer for your rear hub, and unless you're a serious racer looking to shave weight, you can just leave it on your bike. A rubber lollypop on the trailer arm slides into the skewer's hitch cup, and once this is locked in place you're ready to go. If you have no idea what the hell I'm talking about, just trust that it's easy. And the manual will guide your way.
The riding itself takes a bit of practice. Getting started requires some deep pedal strokes. Stopping quickly takes serious braking. But everything in between is relatively smooth, and you'll quickly learn to use all that extra momentum to your advantage. Our kids (ages four and one) sit shoulder-to-shoulder crushing snacks as we crank out the miles.
No question, the Chariot is BIG — especially if you go for the double. Ours weighs almost 30 pounds, and that's before we strap two small humans into the main compartment and stuff things like diapers, snacks, and a heavy U-lock into the rear pocket. However, the wheels and handlebar can be easily detached, after which it folds down to about the size of two stacked card tables. We've never had an issue fitting it into the trunk of our station wagon.
There are tons of accessories available, too. At some point, my parents gave us the Stroller Kit ($99), which is basically two 8-inch wheels that attach to the front. Verdict: No bueno. As a traditional stroller, the Chariot is a fish out of water. It's awkward to push and the rock-hard plastic wheels are an insult to the plush inflatable tires in back. There's also a Cross-Country Skiing Kit ($300), which I didn't buy because I'm not a sucker. Lucky for me, my buddy is, so we borrow his kit a couple times each winter and bring our trailer to the mountains.
The Chariot remains the single most expensive kid-related item we own, but was well-worth the cost. Family rides are a fun, healthy activity. Plus, it doubles as everyday transportation. Just make sure not to buy one until your kid is old enough to ride in it ⏤ unless you're eager to clutter your garage with the world's largest rolling dust collector.