Threadsmiths Liquid-Proof Shirts Repel Whatever Your Kid Throws At It
Cut down on your daily wardrobe changes.
by Dave Baldwin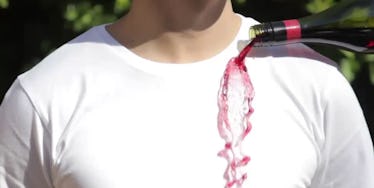 For the dad who'd rather put his own kid through college than his dry cleaner's, Threadsmiths is a line of liquid-repellant shirts designed to withstand the fiercest attack of spit up, apple juice, or puréed beats your child could conceivably launch at you.
"Inspired by the natural self-cleaning of the lotus leaf" (yeah, botany!), they're made from 100 percent cotton and use "advanced nanotechnology" and/or an invisible shield to absorb sweat while forcing external dirt and curdled milk to bead up and roll off. Technically, they're considered stain-resistant and "hydrophobic" — so, in addition to repelling water, it's quite possible they're actually afraid of it. But hey, if it keeps you from having to change wardrobes more than Beyonce at the VMAs, who's judging?
Depending on the level of casualness you require for the big neighborhood holiday pizza party, Threadsmiths come in three playfully named styles: the Cavalier T-shirt, the two-button, standard-fit Game Polo, and a classic long-sleeve dress shirt that may or may not fit too closely dubbed The Grind. It's made of a "finer weave than a heavy oxford cloth," comes in blue, white, or Gingham, and can be dressed up with an equally stain-resistant navy blue skinny dot tie that, thankfully, doesn't need to be spot cleaned in the office bathroom every morning.
As they're the ones making the mess in the first place, you'll also be happy to learn that these shirts are available for kids (sizes 2-4-6) and infants (age 12-24 months). Yes, the same kids and infants you plan to put through college when they eventually stop throwing up on you.
This article was originally published on