This Wireless Charging Pad Also Charges Your Apple Watch and AirPods
by Skimlinks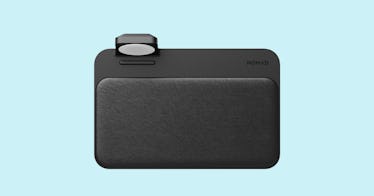 There's no need to mourn AirPower.
Nomad has been making some of the best and most beautiful tech accessories around for years, and we've extensively used almost every product they've ever made. For those who have fully bought into the Apple ecosystem, the Nomad Base Station Apple Watch Edition is as essential as it is stunning.
Few wireless charging solutions out there support two devices at once, but the Base Station can charge your iPhone, Airpods (with wireless charging case), and Apple Watch at the same time, at full speed. With support for nightstand mode, a tap on your nightstand will light up your Apple Watch for a quick check of how few hours you have left to sleep, and the ambient light sensor actually works—we've never seen the charge level-indicating LEDs at night.
The Base Station uses a proprietary AC Adapter (no USB-C here), and the Apple Watch charging bump can't fold down for travel. On the other hand, the Apple Watch magnetic charger is built in, not bring your own like most solutions out there, and international adapters are also generously included.
The Nomad Base Station Apple Watch Edition retails for $140, which may seem like a lot when you can easily find slow wireless charging pads for under $20, and your Apple Watch came with a magnetic charging cable (which is awful to use without a stand), but Apple charges up to $40 for its Apple Watch cables alone, and $80 for its own Watch charging stand. Less capable and less attractive analogs from mainstays like Belkin cost even more.
The Base Station could have been made more portable, but as a Nightstand solution, it's basically perfect.
Every product on Fatherly is independently selected by our editors, writers, and experts. If you click a link on our site and buy something, we may earn an affiliate commission.
This article was originally published on