This Stroller Proves the Smallest Details Can Make the Biggest Difference
How do you deliver storage, versatility, maneuverability, and comfort in a safe, simple, reliable package? We asked the pros.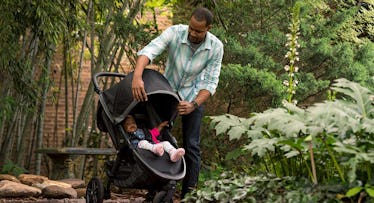 The following was produced in partnership with Britax and their new B-Free stroller, designed to help families feel free to bring more, free to keep going, and free to stay longer.
Pushing a stroller everywhere you go may seem like a chore, but after a few outings, all new parents quickly learn this important lesson: a great lightweight stroller is a ticket to freedom. Freedom from carrying a rapidly growing, squirmy kid everywhere. Freedom to sip an iced latte en route to the park. Freedom to haul everything a child could need without the need for a dad bag. And freedom to maneuver the grocery store aisles when you have to pick up bread and milk on the way home.
So how does one seat on three wheels provide so much? How is it possible to deliver all that storage, maneuverability, comfort, and versatility while keeping the stroller easy to use, reliable, and safe for a baby? To find out, we asked the folks at Britax, a name long known to parents for easy-to-use, safe car seats, and trustworthy strollers, how they designed their latest lightweight stroller, the B-Free.
"The B-Free stroller is the go-to for everyday use. We wanted to create a lightweight stroller that gives parents more — more premium features, more storage, more ways to make their jobs easier," says Britax Senior Product Manager Claudia Prager. So she and her team did what product managers do. They talked to parents through focus groups and surveys. They examined the market. They built prototypes to meet rigorous ASTM International standards. They beta tested with consumers across a range of suburban and city environments. And they rolled out the B-Free.
The design and engineering process revealed a key insight: parents don't need anyone to reinvent the stroller wheel. They just need more of the things that help them do the world's toughest job.
So the B-Free pairs features easy one-hand fold for convenient storage and portability, and travel system compatibility with a series of innovations that Prager believes will become parent favorites.
First, additional storage, because what parent hasn't wished for more of that? Britax was able to expand their under-seat basket and also make it accessible from the front. Simply pull up the flip-forward calf rest, and stash or retrieve stuff from under the seat. The company also added in seven storage pockets and compartments, including a hidden one for valuables, a quick-access one in the back, and two in the seating area for Junior's essentials.
Next, child comfort amenities. Britax's infinite recline feature allows babies and children up to 65 pounds to lie nearly flat, ensuring that on-the-go naps go uninterrupted and helping parents stay out just a little longer to get that last errand done. The expandable canopy also offers SPF protection, a mesh back panel for ventilation, and a peekaboo window to let parents check in. Prager's team also made a small addition that proved a big deal. She notes, "Testers said opening the window with velcro would wake sleeping babies, so we made it magnetic. That was an 'a-ha' moment."
To maximize maneuverability for navigating even the most crowded farmer's market, the B-Free features a three-wheel configuration with a front swivel wheel. The large wheels feature all-terrain, no-flat rubber tires and all-wheel suspension to let parents confidently roll from the house to the subway to the park and over any obstacles between them and their next activity. It also packs an adjustable handlebar for greater control regardless of who is pushing the stroller and how tall they are.
Finally, the B-Free combines Britax's car seat safety with the fashion and functionality parents want from a stroller. It includes the company's exclusive Click & Go technology so it can be easily made into a travel system. Other safety features include a five-point harness, linked parking brake, and SPF 50 protection in the canopy.
"We make sure our stroller safety features fit in with the entire system," Prager says. By creating an entire system that combines a safe seat and stroller, Britax aims to give parents the confidence to maintain their lifestyle without worry.
The genius of the B-Free is all the little details that enhance comfort and convenience and deliver more of the stuff that gives parents the freedom to bring their babies along for the ride while living the lives they already love. In doing so, Britax proves that, in strollers and parenting, it's the little things that matter most.
This article was originally published on