This Stay-Tucked Dress Shirt is the Greatest Thing to Ever Happen to Men's Clothing
by Skimlinks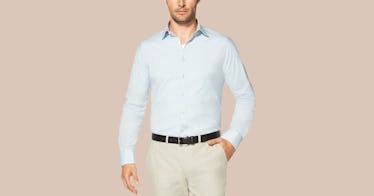 Tommy John makes some of the best underwear on the market, and they really kicked things up a notch when they made the first (and only) good men's undershirts, but after you try their Stay-Tucked dress shirt, there may be no going back.
With the rise of low rise pants and the standardization of slim fit shirts, you may find yourself spending more and more time re-tucking your shirt. The Tommy John Stay-Tucked dress shirt changes everything with an elastic band, extra length, and snap buttons at the bottom. In short, there's no way this shirt is coming untucked.
Available in classic and slim fits, and several solid colors and patterns, Tommy John didn't just add elastic and call it a day. The whole shirt is stretch, with even more added stretch under the arms. The collar is crisp and stays that way, and the Stay-Tucked shirt resists wrinkling and easily steams to wrinkle-free. Cufflinks optional.
With the Stay-Tucked dress shirt, you can throw on a suit, do cartwheels, and not look disheveled afterward. Purchasing three or more brings the price down to $125/shirt, and Tommy John offers free returns as well.
Every product on Fatherly is independently selected by our editors, writers, and experts. If you click a link on our site and buy something, we may earn an affiliate commission.
This article was originally published on