This Truly Miniature Golf Set Lets You Play 18 Holes in the House
Better still, it comes with six tiny clubs so you can drive, pitch, and putt.
by Mike Dojc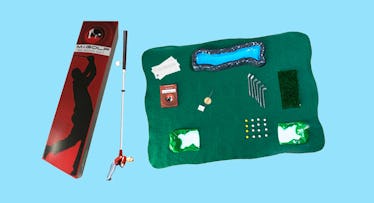 There's no shortage of shrunken down games for your playroom ⏤ from foosball, mini bowling, and table hockey, to Nerf hoops, tiny curling, and electric football. But one sport that doesn't lend itself well to indoor play is golf. Unless you have a fancy simulator set-up in your man cave, all you can really do in the house is practice your putting on a mat like so many smarmy financial types in movies.
That's what makes Mini Indoor Golf so damn cool. It's a legitimately tiny version of the game, in which you control a plastic golfer attached to the end of a golf club. That toy golfer has six interchangeable (tiny) clubs, a full backswing, and can hit a tiny golf ball around your living room with realistic accuracy and arc. The little clubs even put backspin on the ball.
The game itself is not new. In fact, it's almost 100 years old. Initially conceived by Schoenhut in the 1920s — the original wooden toy line now fetches a pretty penny on the collectibles market. It was resurrected in the 1960s by Marx Toys and then later endorsed by Arnold Palmer with the now plastic figure taking on the King's appearance. In the current — and much more available — incarnation, the clubs sport a contemporary look and you can design a hole to your liking with the included sand traps, water hazard, tee box, and felt green.
Gameplay is simple and only takes a few tries to get the hang of. You grip the golf club much the same way you would a regular one. The handle, however, has a looped trigger through which you slide your index finger. Push the finger down to initiate your golfer's backswing, and then pull it back towards you to swing through the ball.
The six included clubs (driver, fairway wood, 5 iron, 7 iron, wedge, and putter) neatly store on a "caddy ring" on the club's shaft and easily snap into place in your golfer's hands as easily as drill bits. I was dubious at first that club selection would matter at all in this toy but the varying lofts do make quite a difference — if you've got decent fine-motor skills you'll be able to pull off a Phil Mickelson-caliber flop shot with a wedge. For example, the driver hits a low arching shot up to 17 feet while the 7 iron has a high arc and 8- to 9-foot range.
When you get within spitting distance of the flag, be sure to swap out the higher flying white ball for one of the heavier orange "putting balls" which are much easier to knock in the hole. Also, keep in the mind the water hazard is designed to be filled up so that you'll actually splash into the drink rather than plunk off of a blue plastic obstacle. But mini indoor golf does have its advantages: just because you get wet, no need to fret that one stroke penalty. You can easily hit it out of the water as the ball floats.
The basic set starts at $60 and includes everything you need to hit the links. Or, if you want to turn the living room into a true Arnold Palmer course, they sell accessories as well — from extra pins and sand traps to trees, rough, and water hazards. My son gets a kick out of the course architecture aspects of mini indoor golf, often opting to add extra obstacles to amp up the challenge factor — no reason why you can't snake a train track around the pin or erect a couple Lego buildings on the fairway.