This LEGO Furniture Is a DIY Dad's Dream
This Sleek Wood Furniture Is Made By LEGO, Yes, LEGO
by Sal Vaglica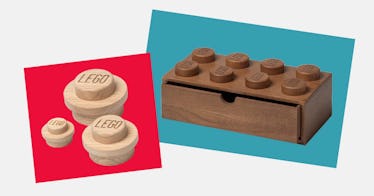 Lego, the iconic toymaker, is bringing its famous brick shape — included the nubby studs bearing its name — to your living room. And this time you don't have to ask your kids to clean up before company. Lego teamed with Room Copenhagen, a Danish design firm, to reimagine scaled-down versions of its toy parts as red oak furniture and accessories.
The collection includes desk drawers designed to look like 2×2 or 2×4 bricks along with rectangular picture frames, a three-pack of round, wall-mounted studs that act as coat racks, and linear floating shelves. When the collection is back in stock on Lego's website it will range from $89 to $220, in both a light and darker stained option. Want it sooner? You can pick them up at Nordic Nest, but you'll want to do it now if you see this as a holiday gift because it can take up to 3 weeks to reach the US. The clean, minimalist shapes look great in just about any living room or kid's room, but maybe the best part — the desk drawers and picture frames are stackable just like real Legos.
The red oak parts are available in a dark stain or a soap treatment — a Danish finish that preserves the natural color of the wood while adding some stain protection. The return to wood is a bit of a homecoming for Lego. What some fans might not realize is the early Legos were made out of wood until the brand switched to brightly colored plastic in the 1960s. In your room, or for your kid, these add fun pop art whimsey and some functionality.
Every product on Fatherly is independently selected by our editors, writers, and experts. If you click a link on our site and buy something, we may earn an affiliate commission.