This Inexpensive Security Camera Makes the Perfect High-End Baby Monitor
And it's only $25 on Amazon right now.
by Dave Baldwin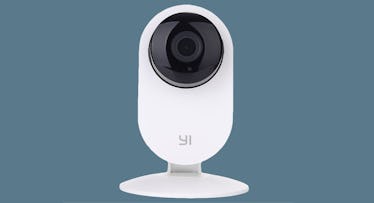 Nothing is more reassuring to a new parent than seeing their sleeping baby on the tiny screen of a video monitor. But that peace of mind comes at a price. This is why most expecting parents put monitors on their registry while others even go through the trouble of converting less expensive wifi cameras into makeshift monitors. It's also why Amazon's $25 price on the YI Home Camera is so eye-catching.
Technically, the YI is an all-around general home security cam with myriad uses ⏤ from watching the front door to keeping tabs on the dog. It just happens to also have everything a parent needs in a baby monitor, including 720 HD picture, 111° wide-angle lens, a 4x digital zoom, and night vision. Even better, it boasts real-time motion and activity alerts, as well as two-way audio with built-in mic and speaker, so you can soothe your baby and/or scare your toddler without getting out of bed. Again, all at a bargain basement price.
The Yi runs over wifi and streams to your smartphone or tablet, so you can tune in while away on business, and even rocks a micoSD slot to record/save all those precious nights of slumber. You can also monitor four cameras at once ⏤ which at that price, why not?
What really stands out about the YI, however, is the 4-star rating from 3,472 customer reviews. A lot of love from users impressed both by the easy installation and the camera's high-end features. "I think this could be the best value for the money I have purchased in a long time," writes one reviewer. Adds another: "We live by the saying 'You get what you pay for'. But this is the exception to the rule. Love love love this little device!!!" There you go. It comes in black and white and runs about $40 on other sites.
This article was originally published on