Tons of 'Star Wars' Gear Is Now On Sale For Crazy Low Prices
Including a sweet Rebel Force track jacket for only $8.
by Dave Baldwin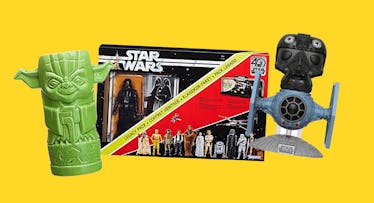 With the The Last Jedi in theaters and, Solo, the Han Solo movie still 11 months away, Star Wars-mania is finally dying down. Which, even if you love the franchise, you can admit is for the best ⏤ talk about a lot of hype. Not to mention, the toys. So many Star Wars toys.
For those not quite ready to move on, or those who at least want to take advantage of all the unsold swag stores couldn't move over the holidays, ThinkGeek is having a massive clearance sale. The online retailer is selling hundreds of Star Wars toys, collectibles, clothes, housewares, and even jewelry, from $8 Rebel Force track jackets (who knew the rebels were so stylish?) to Funko POP! collectibles to a sweet Han Solo Carbonite Refrigerator that's only $129. Here are some of the highlights.
40th Anniversary Legacy Darth Vader Figure
The lightsaber may not slide out of the arm but this 6-inch Vader commemorating Kenner's first line of action figures should still evoke plenty of fond childhood memories.
Star Wars Geeki Tikis
For your next Endor-themed tiki party, this set of six ceramic glasses includes Boba Fett, Chewbacca, Darth Vader, R2-D2, a Stormtrooper, and Yoda ⏤ but unfortunately no Ewok. Wicket actually comes in another set, which of course, you'll also want to order.
Funko POP! Star Wars TIE Fighter
While there are a bunch of Funko POP! collectibles on sale, including Chewy, BB-9E, and Kylo Ren, this Tie Fighter is marked down almost 50 percent.
Star Wars Rebel Logo Track Jacket
Seriously, this track jacket emblazoned with the stylish Rebel logo is marked down from $50 to $9. You can also get it with the Imperial logo if your wardrobe leans more toward the dark side.
Han Solo in Carbonite Pendant
Valentine's Day is fast approaching and a handsome 30-inch "Han in Carbonite" box chain and pendant would make a lovely gift for the Rey in your life.
This article was originally published on