Lego's New Technic Mack Anthem Truck Set Is Two Awesome Trucks In One
For the first time ever, Lego timed the release of its Technic Mack Anthem set with the real truck's actual launch.
by Dave Baldwin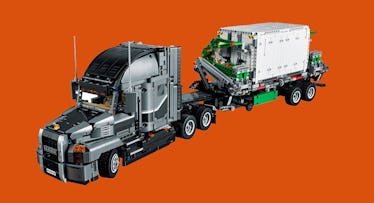 Dump trucks, toy trucks, Little Blue Trucks that go "Beep!" ⏤ it doesn't matter, kids learn at an early age that trucks are pretty badass. So the idea that Lego Technic would make a crazy detailed 2,595-piece building set out of Mack Truck's sweet new rig shouldn't be a surprise. It's the perfect muse. What is unexpected, however, is that the new Technic Mack Anthem building set hits stores at the same time the new Anthem hits the road. And it's the first time Lego's ever coordinated a drop like that.
It's easy to see why they would, though. The new replica is as slick as the actual truck ⏤ why not let Mack and Lego fans celebrate together? The fifth-largest Lego Technic kit ever, the Anthem is actually two trucks in one. First, it's the new tractor trailer and features realistic details like "front-axle steering, rear-wheel drive, and a 6-cylinder straight engine with working pistons and spinning radiator fan," not to mention "adjustable seats, detailed dashboard, steering wheel, sun visors, and a bunk bed." It also rocks a detachable trailer with a working crane, extendable outriggers, and a locking container that may or may not eventually be turned into a tiny swimming pool. To top it off, Lego even recreated the company's iconic bulldog hood ornament.
Now while that may seem like enough bang for the buck out of a single building set ⏤ and it probably is for enthusiasts who plan to just display the big rig on a shelf ⏤ there is more. Namely, the whole set can be rebuilt into another detailed Mack replica of the LR garbage truck. It's 22-inches long and features working forks and container.
To ensure the accuracy of the models, Lego designers actually visited Mack's Greensboro, North Carolina, headquarters to test drive the trucks. Mattel did the same thing when designing its American Girl astronaut doll, Luciana, dispatching designers to Johnson Space Center in Houston to visit NASA and talk to real-life astronauts. The Lego trip clearly was worth the effort, as no detail seems unturned.
The new Technic Mack Anthem building set costs $180 and is available both in Lego's online store and the Mack Shop.