These Birkenstocks Are Better Than Your Everyday Sandals
by Skimlinks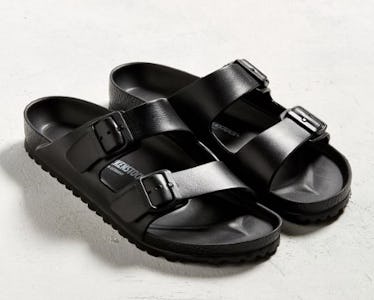 The following review has been syndicated from Skimlinks, the leading commerce content monetization platform.
Men should only be wearing open-toed shoes in very specific situations that demand them (the beach, for example), so choosing the right pair is 99 percent about functionality. These Birkenstock EVA Essentials are waterproof, ultralight, washable, indestructible, and actually, they also look great, somehow.
Modeled on Birkenstock's classic Arizona silhouette, the EVAs are flexible and require no breaking in. While they might not be as packable as flip flops (which are garbage), they'll add no weight to your bag, actually stay on your feet, and you can confidently step over rough terrain in them.
The Birkenstock EVAs are a travel essential, come in great colorways, are impulse-priced at $40, and are also available in women's styles.
Every product on Fatherly is independently selected by our editors, writers, and experts. If you click a link on our site and buy something, we may earn an affiliate commission.
This article was originally published on