Thermacell's Radius Zone System Is Built to Banish Mosquitoes From Your Backyard
The battery-powered skeeter-beater uses an all-natural repellent and to create a 110-square foot shield of comfort around you and your family.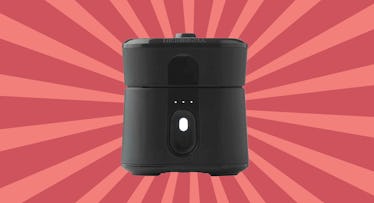 Nothing ruins the joy of a summer barbecue, pool party, or camping trip quite like a squadron of mosquitoes that descends on your group to feast on your delicious life force. Thermacell, makers of natural skeeter-beating products, recently released a new mosquito-repelling system called the Radius Zone. Utilizing an all-natural method of defense, the rechargeable Radius forms a protective dome around your family that keeps the bugs at bay. Translation: Oh, sweet relief.
Thermacell is dedicated to bug defense. Earlier products, however, depended on butane, a power source unreliable at higher altitudes and difficult to bring onto commercial flights. The Radius electric system works no matter how far-flung or high-altitude your summer adventures are.
Running a rechargeable USB lithium-ion battery that lasts for six hours on a single charge, the Radius emits a scent-free repellent made from allethrin — a synthetic version of a natural repellent found in chrysanthemum plants. It creates an invisible zone of protection 110 square feet in area. Bonus: The Repel also has automatic shut off timer will save battery even if you forget to.
The Radius uses sealed refills that last either 12 or 40 hours and can replace the various smelly, oily and potentially toxic lotions and sprays normally used to repel mosquitos. It fits in the palm of your hand and is light enough to carry anywhere. It's also weather- and impact-resistant, meaning it can withstand a good amount of jostling and some exposure to water.
Bottom line: unless you have a bizarre affectation for the smell of citronella or the stickiness of bug spray, the Thermacell Radius Zone Mosquito Repellent System seems to be a superior alternative to traditional methods of repelling mosquitos.
Every product on Fatherly is independently selected by our editors, writers, and experts. If you click a link on our site and buy something, we may earn an affiliate commission.
This article was originally published on