This Pint-Sized Camper Is Ready For Your Family's Summer Road Trip
And you can actually afford it, too.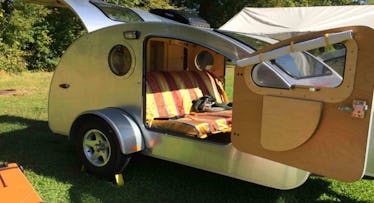 Vistabule
Despite the blizzard that just defecated snow on half the country, spring is almost here. (Promise.) And so is camping season, where you get the joy of showing your kids the great outdoors while they get the joy of complaining about sleeping on the ground. Unless, that is, you pile the family into a teardrop trailer designed to, well, keep their tears from dropping. Like this sleek beauty from Vistabule.
Admittedly, the interior of the Vistabule isn't huge; it's only as big as the queen-sized bed inside. So while it sleeps 2-4 people, it's obviously better if 2 of those 4 are not big. That said, thanks to a large front vista window (with a pleated privacy shade), extra-wide doors, and a bed that converts into a couch, the trailer feels much larger than it seems.
It's also equipped with space-saving amenities like built-in floor storage, drop-down nightstands, and a collapsible table for a rousing post campfire game of Pie Face. The space is well-lit thanks to myriad reading, dome, galley, and mood lights and well-cooled thanks to a remote-controlled 10-speed Maxx Fan (although why you need a remote when you can just lean over is anybody's guess). What's more, the electrical system's got enough juice to charge the many gadgets you begrudgingly allowed the kids to bring.
There's an exterior kitchenette with a pullout 2-burner stove, space for your cooler, and a sink with running water (a 9-gallon water tank is built in). A "convenient pass-through from the cab to the kitchenette" makes it so you don't have to walk 4 plates of baked beans around to the door when you're cooking in the rain.
Finally, the best part: You don't need to own a Hemi to tow this thing. Its silver-painted aluminum body is only 14-feet long (by 7-feet wide) and weighs 1,520 pounds stocked with water, gear, and propane (1,220 pounds empty). And with 14-inch wheels and an easy to attach 2-inch ball hitch, it pretty much rides behind any old vehicle bigger than a Smart Car. Which means the only tears you'll be dropping are those of joy as your family sets off into the wild.
This article was originally published on