The Veer Cruiser Is a Stroller-Wagon Hybrid for the Long Haul
The rugged utility wagon can be assembled into everything from two-kid stroller to stuff-hauling beach rumbler.
by Fatherly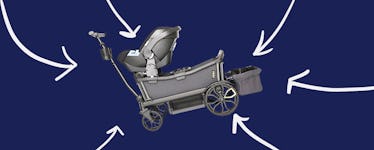 Having kids forces you to adapt. To new schedules. To new roles. To new hurdles. It makes sense, then, that some of the best parenting gear is also adaptable. It's rare that one piece of gear can be everything a parent needs so, many brands think, why not build create modular gear that parents can customize for their specific lifestyle? It's a smart move. Oftentimes this process leads to clunky, heavy items that become more of a burden. This is certainly not the case, however, with the Veer Cruiser, which is why it's one of our favorite pieces of parenting gear. A rugged utility wagon that can serve as everything from a two-kid stroller to stuff-hauling beach cruiser, it's able to adapt to your parenting needs.
Consider the Veer Cruiser the buff child of a stroller and a utility wagon. It's 37-inches long, 25-inches wide, and 23-inches tall and weighs 32.5 pounds. It has soft-sided walls, burly, airless pneumatic tires, and a frame made from an airplane-quality aluminum. There's a footbrake as well as a large, locking handle that acts as your steering wheel (you can both push and pull with it) and telescopes, as all good handles are want to do.
The Veer also has built-in seating, complete with a three-point harness that safely secures a single passenger under 55 pounds. It also meets the safety standards of ASTM and is also JPMA Certified. When not in use, the entire thing cleverly folds down into a flat-ish package (the sides unclick and collapse down; so does the handle). The base model of the Veer comes with two cup holders (which, shouldn't all parenting gear?) and a snack and drink tray. The holders can clip onto the bucket-style wagon or handle; the tray extends across the wagon. Convenient.
Alone, the Veer is a perfectly useful utility wagon. But what puts the Veer over the top is its customizability. There are a number of add-ons available that morph it into different parenting-centric vehicles. There's a sun canopy, a foldable storage basket, a bug shield, and what the company calls a "nap system" which is a padded insert to make the interior more comfortable. There are also additional cup holders to purchase in case two isn't enough.
Most useful of all is the infant car seat adaptor. As its name suggests, this allows users to easily click-in car seats from such companies as Britax, Chicco, Cybex, Gracco, and Uppababy. This transforms the Veer Cruiser into a double stroller, allowing users to place a younger child in the car seat and an older one in the harnessed wagon seat. That's a big deal for parents who have a lot of kid to carry, as standard double strollers can be difficult to maneuver in open spaces (and through narrow doorways). Double strollers are also not really that useful after kids outgrow them. The Veer is built to evolve along with families.
That's what many of the Veer acolytes loved the most. In addition to giving the Cruiser props for having excellent handling and the ability to move over rugged terrain, three separate sets of parents praised its modular set up. "I loved using it as a double stroller when my kids were both young enough; I love using it now as to haul crap to the beach or park or wherever we go," said one father of two. Said one mom: "I use the Veer for everything we do. It carries my stuff, it carries my kids, and, honestly, one night my husband pushed me in it — although I wouldn't recommend that." (We wouldn't either; each seat of the Veer Cruiser has a maximum weight capacity of 55 pounds or 45 inches).
Some parents complained that the Veer is a bit heavy. That's understandable: This bad boy weighs 33 pounds (it is, however, comparable in weight to several popular double strollers). They also said it's a bit tough to drag through the sand on some occasions. One parent also stressed that, even though it breaks down, it is a bit of a space-hog. Finally, all parents did mention cost: while the Veer costs $599, add-ons cost more. That makes the price more than a bit considerable.
Still, all users agreed that, in terms of adaptability, features, and build, the Veer is an excellent purchase. We agree. It's a mobile command center for parents.
Every product on Fatherly is independently selected by our editors, writers, and experts. If you click a link on our site and buy something, we may earn an affiliate commission.