The Ultimate LEGO-Lovers Gift Guide
15 LEGO sets that stand above the rest this season.
by Ben Radding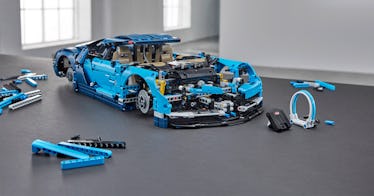 This story was produced in partnership with LEGO Technic.
All kids should grow up with LEGO bricks. They're good hands-on fun that let imaginations run wild, impart technical skills, and increase the chances of you wanting to play along by roughly 1000%. Besides, the sets these days are so freaking cool. From the classic build-your-own-bricks to pop culture to the more technical, er, Technic line, here are our favorite sets to get your kids this holiday season.
Technic Rally Car
LEGO Technic's Rally Car has an eye-catching blue, red, white, and black body, four spot lamps, and 6-spoke red rims. It has working steering and suspension and an opening hood so you can see the car's internals work as it moves. At over 1,000 pieces, it's a great way to start your kid's LEGO Technic collection.
Anna & Elsa's Frozen Playground
Start your beginner builders off slowly with this set from one of their favorite animated movies. This winter playground lets kids build their own ice castle — complete with treasure chest and slide — and includes Anna and Elsa mini-dolls that'll give young Frozen fans hours of fun.
Technic Heavy Duty Forklift
Lift (almost) anything with ease once you build this 7-inch-tall forklift from provided LEGO pieces. The set includes features such as detailed driver's cab, moving pistons, forks that raise and tilt, and an orange beacon light which doubles as a steering mechanism. The buildable pallet can carry the included canister or any other items that might be cluttering your desk.
Hogwarts™ Castle
This set is almost as big as the real thing. Featuring a mind-boggling 6,020 LEGO pieces, the Hogwarts castle is the multi-month project you and your kids should be dying to build. It's stocked with classrooms, towers, Hagrid's hut, and figures of all the main characters, including Harry himself. Potterheads, rejoice.
Brickheadz Groot & Rocket
You know those big-headed figurines your colleague has all over his desk? Well, you can actually build them. Recreate all the details of your kid's favorite Guardians with 189 pieces, including Groot's branches and Rocket's laser blaster and cute whiskers. These brand-new figures stand above all others. Well, maybe not Rocket.
Technic Volvo Concept Wheel Loader ZEUX
It's not a real vehicle — at least not yet — but that doesn't mean you can't build it. Experience the future of construction with this Volvo-approved concept model, where every detail scream "science fiction." It comes with sleek rims wrapped in heavy-duty tires, 4-wheel steering, and an adjustable counterbalance. The future sure looks fun from here — especially to a STEM-minded child.
Minecraft The Bedrock Adventures
Kids are obsessed with Minecraft. So it only makes sense, given the modular nature of the game, that LEGO made a set just for them. Your kid will have their little heroes venture through a giant mine they made, collecting resources and battling all sorts of creepy-crawlies: a bat, a cave spider, and a Creeper. It's almost as addictive as the game itself.
Technic Bugatti Chiron
Now this is the cutting edge. Developed in partnership with Bugatti, this 1:8 scale model looks as real as the actual car: a sleek, two-tone blue, aerodynamic body with a functionable W-16 engine in the rear, specially developed 8-speed gearbox in the cockpit, and retractable rear wing. Prepare for hours of building and bonding.
LEGO Super Heroes App-Controlled Batmobile
The Dark Knight rides again. This ferocious-looking Batmobile is made up of only 321 pieces but features two motors that are powered by a Bluetooth-controlled battery hub. Control it like a remote-control car from a special app. It also comes with its own Batman figure to further terrorize Gotham's criminals.
Technic WHACK!
Zoom across any floor at a good deal. Featuring a beautiful lime green, red, and grey color scheme that draws the eye as it speeds around, the WHACK! has a powerful pull-back motor that powers the pint-sized racer and even has an engine pop-out function for when it crashes. Just watch your kid's reaction when it does.
Technic BASH!
Looking for a driving partner to your WHACK!? The BASH! is the twin red to the WHACK's lime green and features the same sturdy bumper, pull-back motor, and obnoxiously fun engine pop-out function for crashes. Set WHACK! and BASH! up side-by-side and see who wins.
DUPLO Santa's Winter Holiday
A perfect set for the holidays — for the littlest ones. Help your toddler build this colorful, fun-filled 45-piece set and watch their imaginations go to work as they fly Santa around in his sleigh and land it on the included slope. A reindeer and a squirrel level out this cute-as-heck crew.
LEGO Ideas Voltron
Boy, does this one bring us back. Perfect for the action-oriented kid (or adult, really) in your life, this ginormous Voltron comes from an impressive 2,000+ pieces. Start building the black, yellow, blue, green, and red lines… and combine them into Voltron to take on your worst enemies. Super robots are back in style.
Classic Medium Creative Brick Box
Why limit their imagination? With the Creative Brick Box, they can create, build, and play to their heart's content with nearly 500 LEGO bricks in 35 colors. Create vehicles with the wheels and baseplates, little monster with eyes, and much more. It even comes in a handy yellow box to store all of their bricks when they aren't building with them.
LEGO Star Wars™ Betrayal at Cloud City™
Few moments in Star Wars stick out as much as what Darth Vader did to Han on Cloud City in Empire. And now your kids can relive the whole incredible sequence with this epic 2,812-piece set. It includes a landing platform for Boba Fett's Slave I ship—and the ship itself—plus the carbon freeze chamber with a working "freeze" function for Han. And don't forget the mini figures of Han, Leia, Luke, and Vader. Maybe Han can escape this time.
This article was originally published on