The Solo Stove Is Your Go-To Backyard Fire Pit
by Skimlinks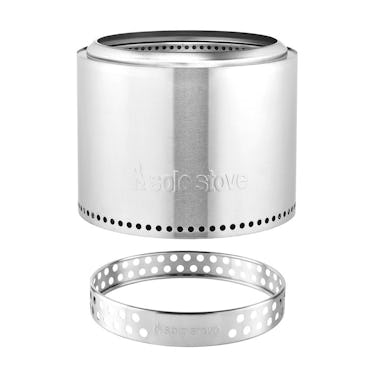 The following review has been syndicated from Skimlinks, the leading commerce content monetization platform.
Good news! You can take that DIY backyard fire pit you were never actually going to build off your to-do list and just buy a Solo Stove.
The Solo Stove Bonfire series takes the brand's years of experience perfecting portable camping stoves and applies it to a larger format, (much less) portable set of fire pits. Available in three sizes weighing in from 15-45 pounds, ultralight these are not, and if you want to take them camping, to the beach, or to a friend's place, which you should, you'll most likely be driving them there.
The stainless steel construction of the Bonfire includes few removable parts, no electronics, and no controls. The airflow system facilitated by the vent holes at the top and bottom of the pit keep the fire burning faster, hotter, cleaner, and more efficiently, encouraging more complete combustion. At the same time, the Bonfire also keeps the fired centered, keeps more heat off the ground, and pulls away spent ash. Long story short: this is a safer, better fire with far less smoke.
If you can start a fire, you can use the Solo Stove Bonfire, and the two larger sizes will easily accommodate standard fire logs.
… but where there's not smoke, there's another fire. The BioLite FirePit is in many ways the digital, grill equivalent of the Bonfire. With adjustable fire intensity, and the ability to burn wood or charcoal with the space for 4 standard firewood logs, the FirePit lets you burn it (and cook it) your way. Best of all, both sides of the Pit are mesh, giving you an unobstructed view of your flames whether you're cooking or just looking. The FirePit weighs in somewhere between the two smaller sizes of the Solo Stove Bonfire, and its form factor makes it easier to carry and more city balcony friendly.
Every product on Fatherly is independently selected by our editors, writers, and experts. If you click a link on our site and buy something, we may earn an affiliate commission.
This article was originally published on