The Ripsaw EV2 Is Your Luxury Tank For The End Times
Designed for the military, custom-made for you
by Dave Baldwin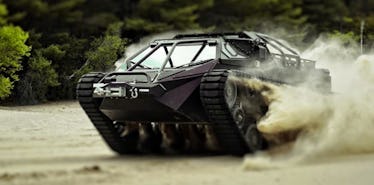 There is no greater responsibility than getting your family to safety in a time of crisis. And if your vision of said crisis involves plowing through the hordes of zombies that will inevitably roam down your street during the end times, then you're going to want the Ripsaw EV2 parked in the garage.
The Ripsaw is what you get when a defense contractor converts the "high-speed super tank" they built for the military into a custom-made luxury vehicle. Much like Bliss Mobil's Expedition Vehicles, the treaded-out ride is designed to survive an eventual apocalypse and/or provide hours of what they call "extreme off-road recreation."
It boasts dual tracks, a 600HP V8 diesel engine that can clock 60 mph in less than four seconds, and has a range of 300 miles. The exterior is made of aerospace aluminum and includes gull-winged doors, while the interior ⏤ complete with leather upholstery and bucket seats ⏤ is clearly stolen from the Batmobile.
Obviously, you can't have your own giant tank without your own giant bank account. The Ripsaw reportedly starts around $300k and takes roughly six months to build. Which means, until then, you're just going to have to keep running over zombies in your Kia Stinger GT.
This article was originally published on