Video Review: The Owlet Infant Heart Rate And Oxygen Monitor
Here are the benefits and drawbacks before you enter your credit card info.
by Dave Baldwin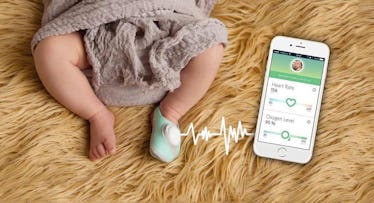 Looking for all of the Best Baby Gear of the Year, from jogging strollers to baby carriers? Click here.
Unlike monitors that only tell you whether or not your kid is making noise, this actually uses hospital technology to let you monitor their oxygen levels. The Owlet bootie tracks heart rate, skin temperature, and rollovers, then downloads that data to your smartphone. It also connects to a base station that monitors constantly, just in case you're not near said smartphone. Great for those who are concerned about O2-levels in their newborn babies. Bad for those who are anxious or compulsive. Or, as they're commonly known in psychology textbooks: Parents.
Pros:
Let's start with the biggie — it provides "peace of mind" for new parents. Seemingly every other reviewer on Amazon or the Owlet site posts some iteration of the following note: "This monitor allows me to sleep stress-free, and it was the best baby purchase we made."
"The Owlet's components are well designed and durable," says CNET. "The socks are comfortable for babies, and they fit snugly and reliably even on squirmy children."
It saves lives, at least according to more than a few reviewers with compelling (albeit terrifying) stories about their babies.
According to customers who work in the medical profession (and there seem to be many singing the Owlet's praises), it's apparently spot-on in terms of accuracy. "I am an RN and work in the newborn nursery where we use oxygen saturation monitors. This is often more accurate than our devices at the hospital."
It can also connect to your smartphone so you can monitor your kid's vitals at work. As if you didn't need another distraction at the office.
Cons:
It's only meant for when your baby is sleeping perfectly still, which, depending on what kind of parent you are, either puts you at ease or terrifies the living shit out of you. One Amazon commenter points out the main flaws for their newborn, "the preemie sock is more prone to false positives than the normal socks," "There is no way to turn the sock off," and "you can't use your phone at night if you don't want yellow alerts waking up your baby." That last one sounds like a red alert for your iPhone addiction.
False alarms. All night long. Despite CNET's assessment of how well the sock fits, more than a few reviewers griped about the sock's poor design and how it leads to a less than peaceful night sleep. "It disconnects at least 3 times a night. Wakes me up at least 3 times a night to readjust sock or put the sock back on. Horrible sock design," notes one. Adds another: "The sock falls of wayyyy to easily. And if you bought baby footy pajamas, good luck. The moment the sock falls off you have to unwrap him and fix the sock (even though he's finally asleep), wrap him back up and pray he doesn't move."
Its range is limited and requires the base station be positioned close to the action."Our room is about 15-20 feet from the baby's room," writes one user. "We have to put the base station halfway between us in order for it to pick up or it will say it's disconnected."
Overall, it's a lot to pay for "peace of mind." Or at least CNET thinks so: "The $250 price tag is so much higher than what its straightforward features seem to justify. Plus, it just won't replace more traditional monitors that let you know if your kid wakes up at night."
This article was originally published on