This Handsome Flat-Pack Baby Crib Sets Up In Less Than Two Minutes
Even better, you don't need any tools.
by Dave Baldwin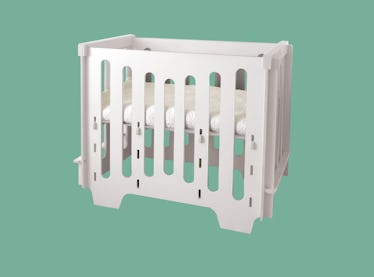 Some babies don't like to sleep in a Pack 'n Play, and it can make traveling a challenge. Carina Bien-Willner Reichman's son Judah is one of those kids. Worried that a trip to visit her parents in Arizona might prove problematic, the Los Angeles-based architect called her dad Ruben to express her concerns. Luckily for Bien-Willner Reichman, her dad is a furniture maker. He marched into his workshop and by the time his daughter and grandson arrived in Tuscon, he had whipped up the prototype for a wooden flat-pack crib that could be set up in under two minutes. The Noni Crib was born, and so was a new dad-daughter business, Noninoni Kids.
The Noni, which hit stores this fall and was met with accolades at the ABC Expo in October, is a handsome high-end Baltic birchwood crib that can be assembled without tools (not even an Allan wrench). In fact, it doesn't come with any hardware at all ⏤ no screws, nuts, bolts, nothing. Instead, the 11 wooden pieces slide together and lock in place in four easy steps. It can be set up in 90 seconds. The whole innovative design is patented. Even better, it packs flat under the bed for easy storage at your folks house or in the car trunk if you want to take it on trips.
And that was the whole intent. Bien-Willner Reichman's goal was to have a crib that was both easily transportable and stow-able, so it could either travel with you or serve as a secondary crib at somebody else's house. Who needs a Pack 'n Play when you can set up a crib just as fast? In the process, you guarantee your baby some sleep continuity no matter where they were ⏤ or so the thinking goes. The name 'noni noni' actually means 'night night' in Argentina, which is where Ruben and Bien-Willner Reichman's mother, Felisa, are originally from.
Noni cribs are handmade in Ruben's Arizona shop and come in two sizes: Full (57 inches by 32 inches) and Mini, which measures 43 inches by 28 inches. They're not cheap ⏤ the Mini starts at $660 while the Full costs $750 ⏤ but the craftsmanship is top of the line. And did we mention this is a full crib that goes up and down in less time than it takes to put the baby's PJs on? We did? Well, it bears repeating. The cribs are available in up to seven soothing colors (soft peach, mint green, and sky blue) and offer three adjustable mattress positions. Better still, they also convert to a toddler bed with the addition of a separate rail for $220.