The Nest Cam IQ Video Monitor Can Recognize Your Baby's Face
It also shoots in 1080p HD and has a 12x zoom.
by Dave Baldwin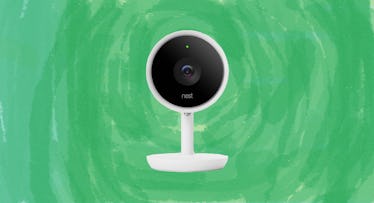 Scenario: A wily toddler sneaks out of bed in the middle of the night. Before doing so, though, she cleverly slides a doll under the blanket to make it look like she's still sleeping. It's a perfect crime, or so her tiny brain thinks. Little does she know that the room's security camera (aka, the baby monitor) is the new Nest Cam IQ ⏤ and it recognizes her face. Busted!
RELATED: The Nest Cam Outdoor Knows What's A Threat And What's A Pet
Actually, the newest iteration of Nest's security camera and intelligent baby monitor would also automatical zoomed in and sent a push notification to her parents as soon as it detected movement so they could watch her attempted escape live in 1080p HD. The zooming technology, which Nest calls "Supersight," allows the monitor's 8-megapixel 4K sensor to recognize a face and then zoom in (12x) on it, following all the action as it unfolds.
That said, Nest's latest camera can also recognize voices (and presumably an infant's cry) and boasts two-way audio with a noise-cancellation and echo-suppression microphone ⏤ so the white noise machine won't drown out any subtle whimpering. The camera can see in the dark thanks to invisible infrared LEDs, allows users to program important "activity zones" (areas like a crib or toddler bed that requires a higher level of scrutiny), and records 30 days of continuous video with a subscription or three-hour snapshots without.
And that's the big catch with the brainy IQ, the Nest Aware subscription. Much like Nest's other cameras, you need to shell out $10 a month to enjoy all of the device's functions, including the facial recognition. And considering the camera itself costs $299, that's a lot a cash to know when your baby's rolling over or toddlers flying the coop. Then again, you'll see everything in gorgeous HD, so maybe it's worth it after all.
This article was originally published on