Clue, PEZ, And the Magic 8-Ball Battle For a Spot in The Toy Hall of Fame
Who gets in? Ask again later!
by Dave Baldwin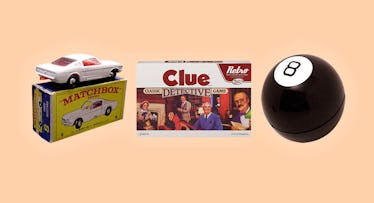 Clue. Match Box Cars. The Magic 8-Ball. The finalists for this year's National Toy Hall of Fame have officially been announced and the list reads like a glorious trip through your childhood. The dozen finalists include toys and games you owned, loved, and no doubt gave away to Goodwill when you left for college. But which will be inducted into the Class of 2017? Ask again later!
In addition to the three toys noted above, the other nominees include My Little Pony, UNO, the PEZ Candy Dispenser, Risk, Transformers, and Wiffle Ball. Three weirdly abstract entries round out the group: play food, the paper airplane, and sand. Yes, just sand. Some of the finalists are first timers while others, such as Clue and UNO, are, like Jeff Bagwell and Tim Raines, holdovers from previous years still trying to get enough votes. None of the nominees were involved in any late-1990s doping scandals.
The National Toy Hall of Fame ⏤ which is housed at The Strong Museum of Play in Rochester, NY ⏤ has been inducting toys since 1998 and there are currently 63 classics on display; heavy hitters like LEGO, Monopoly, the Super Soaker, and Nintendo's Game Boy. The goal is to "recognize toys that have engaged and delighted multiple generations" and anybody can nominate a toy for consideration. In fact, next year's nominees are currently being accepted here. The four-part selection criteria takes into consideration the toy's iconic status, how long it's been around, whether it fosters "learning, creativity, or discovery through play," and if it's "profoundly changed play or toy design."
The two or three inductees are chosen based on the advice of a national selection advisory committee made up of historians, educators, and thankfully not baseball writers, among others. The winners will be announced at a ceremony on November 9 and then feted during the Hall's two-day, open-to-the-public Celebration Weekend.
Said weekend will include a giant LEGO building activity, a 100th-anniversary celebration of the Radio Flyer wagon, and a chance to meet a "speedcuber" who can solve a Rubik's Cube before most people line up a single row. It all goes down November 11 and 12 and tickets are available on the museum's website.
This article was originally published on