The Nanit Smart Baby Monitor Analyzes Your Baby's Sleep Patterns
by Dave Baldwin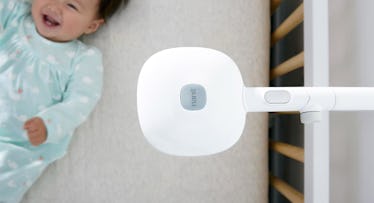 If you've ever read Goodnight Moon and thought, "what if instead of just whispering hush, the little old lady also watched the baby rabbit snooze through the night and then reported to her parents in the morning about her sleep patterns and behavior. And, she did it for just $10 a month." Well, now you can actually hire that little old lady. Her name is Nanit.
Out of the box, Nanit is an HD, night-vision video monitor that live streams your baby (hopefully) sleeping direct to your smartphone. It also takes the temperature/humidity in the room, offers one-way audio so you can listen in on (but not talk back to your kid). You can use it with mobile Internet (if you're sipping Mai Tais on your neighbor's deck down the street) and local Wi-Fi (if you're sipping Mai Tais while watching Netflix). The monitor also sends smart notifications to your phone if your baby wakes, cries, or stirs — so expect to check it every 15 seconds.
For any parent who's ever struggled to wall-mount a video monitor with the entire crib in view (so frustrating), you'll appreciate the Nanit's 5.5-foot floor stand that fits behind/hangs over the crib and provides a bird's-eye view. Not only that, but it rocks a dimmable LED night light and built-in white noise machine with 6 nature sounds. Feel free to cross both of those off your baby registry.
If you're also willing to pay Nanit the aforementioned $10 a month (by joining their month subscription service) you can access Nanit Insights, which unlocks the camera's "computer vision." Think of it like the NSA for infants — it monitors how your baby sleeps, noting total sleep time, wake time, and times you come in the room. Then it crunches those numbers using an algorithm and shoots out a report you can scan in the morning on the app. In also provides weekly reports, sleep tips and advice, and a stored video history (so don't miss a second of your baby snoring). Finally, Insights gives an unlimited number of users access to the video feed. Now your parents can watch their precious grandchild toss and turn through the night. Or you can just pay them $10 to hang out in the nursery.
This article was originally published on