This Motiv Smart Ring Is A Fitness Tracker That Fits On Your Finger
Now you definitely don't want to lose it.
by Dave Baldwin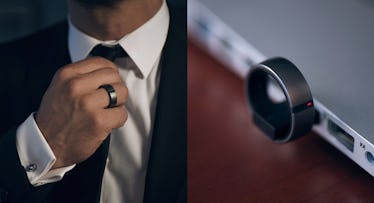 If you're one of those exercise junkies who obsessively tracks steps and calories and how many truck tires you flipped over this month, then you know the crushing feeling of coming home from a big workout to find your Fitbit sitting on the kitchen counter. (Nooooooo!!) It's a devastating stomach punch. But thankfully one that is now completely avoidable, assuming you wear this fitness tracker on your finger.
Motiv is a waterproof fitness and sleep tracker that's been so cleverly hidden inside a handsome Titanium ring you half expect Q to show up to demonstrate how it works. (James, pay attention!) But since he's not here, it uses an optical heart rate sensor and 3-axis accelerometer to measure everything from steps, active minutes, and calories burned, to heart rate, distance traveled, and how many hours you slept last night. The answer, of course: "not enough." The ring's wee Li-Ion battery runs for 3-5 days on a single 90-minute charge. A magnetic USB keychain charger is also included so there's still something you can forget and/or misplace.
While some might see their wedding band as a reason to stop working out, the Motiv — as the name might suggest — is actually designed to get you fired up. The ring uses your resting heart rate from the previous night to adjust your goals for the day and if you complete 10 or more minutes of activity you'll receive an "action card." There's no word on whether you can trade that card to your wife for an extra hour of sleep. Motiv does, however, sync via Bluetooth to a smartphone app where all the data appears in fancy charts and graphs, so you can use those to prove to her that you haven't just been watching GoT for 3 hours.
Rings come in both Slate Gray or Rose Gold (so you really could turn them into wedding bands) and to ensure they're sized properly, you'll receive a sizing set in the mail. They don't ship until March, but you can pre-order today. Or, at least, as soon as you finish flipping those tires and climbing that rope wall.
(Pre-order for March)
This article was originally published on