The Best Military-Style & Tactical Baby Gear For Dads
Muted colors. Military-styling. Rugged construction. All there to help dads feel more comfortable.
by Dave Baldwin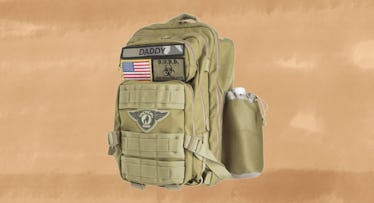 There's an episode of ABC's Blackish where Lawrence Fishburne mocks his son Dre for wearing a baby carrier. Fishburne's character is an old-school dad and the idea of a young father effeminately strapping an infant to his chest was not only ridiculous to him but one worthy of repeated derision. Debit that dude's "man card" was, essentially, the insinuation. And it was a stark reminder that, even in an era of crazy engaged fathers, not all dads are comfortable doing dad things. If more than one-third of British dudes admitted to being embarrassed just pushing a stroller (lordy), as they did in a 2013 survey, how many can handle toting a diaper bag or rocking a Baby Bjorn?
RELATED: New Dad? Here's The Best Parenting & Baby Gear Dads Think You Should Buy
We get it to a degree ⏤ obviously, no one wants to carry a floral-print diaper satchel to the park every day ⏤ but at some point, you have to be confident enough to not give a shit. You have a job to do, and your 6-month-old doesn't care whether you're wildly self-conscious about carrying a tote bag.
ALSO: The Best Baby Products and Toddler Products Coming to Stores in 2018
But if you are, we're clearly not above poking a little fun at you (come on, it's a joke!). Also, we're here to help. There's been a boom in dad-designed parenting gear over the past few years, as companies unveil more products specifically with guys in mind. Muted colors, military-styling, rugged construction: all is now prevalent and available to make dads feel more comfortable. As is baby gear camouflaged as everyday gear and/or in actual camouflage prints. After sorting through it all, we rounded up the best tactical baby gear, military-style baby carriers, diaper bags, and parenting products on the market today.
This article was originally published on