The Most Dangerous Toys and Baby Products Recalled in 2017
Get them out of the house.
by Brendan Charles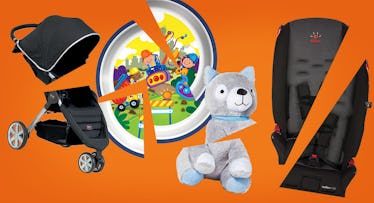 On average, more than 100 toys and kids products are recalled each year due to defect. And because companies aren't inclined to shout their foibles from the mountaintop, few parents ever hear about them. In fact, only 30 percent of recalled products ever make their way back to the manufacturer. Instead, they are handed down to other new parents, find their way into consignment shops, or end up on Goodwill shelves where they can potentially harm other children.
Fortunately, there are multiple government agencies ⏤ most importantly the U.S. Consumer Product Safety Commission, which has jurisdiction over more than 15,000 kinds of consumer products ⏤ and watchdog groups like KidsinDanger.org who keep tabs on it all. In fact, six federal agencies have joined together to create Recalls.gov, an online hub where they "alert the American people to unsafe, hazardous or defective products." New online services such as Bonnie can also help protect your kids by scanning your email receipts (assuming you grant them permission), and letting you know if any of the products you purchased have issues.
Last year, we did our best to update you on all on the latest toy and kid product recalls, as well. We included the product, the defect, and the course of action you should take if you owned the product. Although in all cases, the first action was always to get the dangerous toy away from your child. In case you missed any of the updates, we've re-compiled the ten biggest toy and child product recalls from 2017 here.
Note: If you have a problem with a dangerous product or a product-related injury, you should report it to SaferProducts.gov or call CPSC's Hotline at 800-638-2772.
Little Tike Toddler Swing
Hazard: Fall/Injury
Number Recalled: 540,000Action to Take: Return for creditContact: littletikes.com, 855-284-1903 The plastic seat on the Little Tikes 2-in-1 Snug 'n Secure swing is prone to crack or break, causing children to fall. There have been 140 reports of broken swings, 39 of which have resulted in injuries including two broken arms. The swings in question (model number 615573) were sold between November 2009 through May 2014 and are worth about $25 in credit towards another swing or toy.
Skip Hop Nightlight Soothers
Hazard: Shock
Number Recalled: 130,000 in the U.S. and 21,500 in Canada.Action to Take: Return to manufacturer for replacement partContact: skiphoprecall.com, 888-282-4674, recall@skiphop.com Electrical problems are among the most worrisome issues for safety recalls. In the case of Skip Hop's Moonlight & Melodies animal nightlights, the USB wall power adapter can break, exposing kids to live wires. These soothers, which comes in either an elephant or owl, were sold between July 2016 and August 2017, and you can print a prepaid shipping label to return the faulty adapter to the manufacturer for a replacement.
Just One You Waggy Toys
Hazard: Choking
Number Recalled: 587,000 and 1,000 in CanadaAction to Take: Return for replacementContact: kidspreferred.com, 888-968-9268, recall@kidspreferred.com These plush wind-up toys for babies play sweet music when cranked. The only problem? The crank and connecting rod can slip off and become a choking hazard. Toys sold between January 2016 and August 2017 ⏤ in the form of several different animals ⏤ are subject to recall, and owners are asked to ship the defective items back to the company for a replacement.
Britax B-Agile and BOB Motion Strollers With Click & Go
Hazard: Fall/Injury
Number Recalled: Over 700,000 in North AmericaAction to Take: Cease using stroller for travel, contact manufacturer for repair partsContact: us.britax.com, 844-227-0300, Stroller.Recall@britax.com This stroller, which was sold at Target, Toys 'R Us, and other large chains, has caused 26 recorded injuries due to a faulty attachment system, which causes the car seat to fall to the ground with the infant in it. While the car seat is still safe for use inside the car, consumers have been advised to stop using it with the stroller until requesting a repair kit.
Kids II Oball Rattles
Hazard: Choking
Number Recalled: About 700,000 in the U.S. and CanadaAction to Take: Discontinue use, refundContact: kidsii.com, 800-230-8190 This rattle has a plastic disc that easily comes apart, causing the beads inside to fall out and become a choking hazard. Forty-two rattles ⏤ which come in pink, blue, green, and orange with the model number 81031 ⏤ have broken and three kids have gagged but been fine. Parents are advised to confiscate these toys and contact the manufacturer for a refund.
Graco Car Seats
Hazard: Car injury
Number Recalled: Over 25,000 unitsAction to Take: Replace partsContact: gracobaby.com, 800.345.4109 Graco's MyRide 65 car seat features defective webbing that could break in the case of a collision. The seats were manufactured from May 2014 through August 2014 and the specific model numbers affected can be found here. Owners of this product are asked to contact Graco for a repair kit and replacement parts, although Graco notes that the seats are safe to use in the meantime.
Hazard: Car injury
Number Recalled: 520,000Action to Take: Repair KitContact: diono.com, 1-855-215-4951 Diono announced a recall of over 500,000 of their car seats including the Radian R100, Radian R120, Radian RXT, Olympia, Pacifica, and Rainier models. Only parents using the seat with a child weighing over 65 pounds and without engaging the top tether are subject to the recall because of an increased risk of injury in a collision. Diono is shipping repair kits to qualified owners of the seats.
Playtex Plastic Bowls And Plates
Hazard: Choking
Number Recalled: 5.5 million productsAction to Take: Remove products, refundContact: playtexproducts.com, 888-220-2075 The silicon border around these bowls and plates from Playtex ⏤ which are emblazoned with graphics of cars, construction scenes, giraffes, princesses, and superheroes, and were sold at Babies 'R' Us, Target, and Walmart between 2007 and 2009 ⏤ has a tendency to come off, creating a potential choking hazard. Owners are advised to remove the products from their tables and contact Playtex for a full refund.
Hazard: Fire
Number Recalled: 65,000Action to Take: Stop using, refundContact: mattel.com, 800-432-5437 The motor inside this versatile infant swing ⏤ which bounces, sways, and vibrates, as well as plays 10 songs and nature sounds ⏤ can overheat, resulting in a major fire hazard. There were 36 cases of overheating motors and one fire reported last year. The model numbers being recalled include CMR35, CMR36, CMR37, and DYH22, and the number can be found under the motor housing. A refund will be offered to parents with qualifying units.
IKEA MALM Dressers
Hazard: Bodily injury
Number Recalled: 16.3 million unitsAction to Take: Contact for refund or repair kitContact: ikea.com Technically, this is an ongoing recall that was updated in 2017, but it's resulted in eight confirmed child fatalities and requires constant attention from parents. IKEA's popular MALM line of dressers can become top-heavy and fall on children who might be playing or climbing on the drawers. While kits are being offered free of charge to secure the dressers to the wall, IKEA is also offering refunds. Parents should know that this issue is not IKEA-specific, and that Target and other retailers have been issuing recalls of similar products.
This article was originally published on