The Morgan EV3 Junior Is The Poshest Power Wheel Ever
This kids three-wheeler features leather seats and a top speed of 10mph.
by Dave Baldwin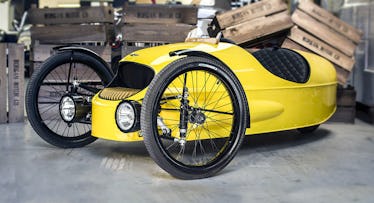 There are plenty of high-end electric cars out there for kids who want to live in luxury while cruising around the driveway. But what about that sophisticated first-grader who dreams of zipping through the English countryside in the early 1920s? What about them dammit? Well, turns out they get a car too, and it only costs half as much as their parents' ride. It's a Morgan EV3 Junior, and it's glorious.
Unveiling a tike-sized replica of your uber-expensive vehicle has become popular these days: first Tesla teamed up with Radio Flyer to debut a mini Model S. Then McLaren rolled out the P1 Roadster. Now, famed British automaker Morgan Motor Company is entering the race. The company shrunk down its recently released electric 3-wheeler, the EV3 (itself a 2016 relaunch of the iconic 3 Wheeler), and spared no expense in the process.
Where some fancy kid cars (like these Porsches and Ferraris) are still mass produced out of plastic, the fully electric EV3 replica is custom made to order out of a lightweight carbon fiber. The seats are hand-stitched leather. The lights work. The dash is fine wood. And, unlike most of its competitors, it tops out at 10 mph. It needs a real key to start, the battery charges in four hours, and there's enough juice to take Junior on a lovely 10-mile road trip up the coast.
Because of the vehicle's speed and size, the EV3 is designed for kids six and older, whereas most cars these days are targeted to ages two to six. As it is still a luxury vehicle, though, it can be purchased in one of three exterior colors (red, green, or ivory) and with either a black or tan leather interior. Kids can also customize it with fun sticker packs. As mentioned, all of this luxury doesn't come cheap. The EV3 Junior is sold online ⏤ or in dealerships if you happen to be zipping through the English countryside ⏤ for $8,600.
This article was originally published on