The iKamper Skycamp Is A Rooftop Car Tent That Sets Up In Under A Minute
Car camping — on top of the car.
by Dave Baldwin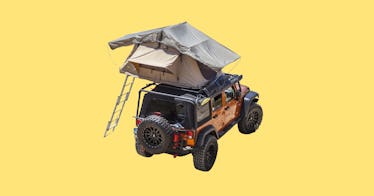 As if setting up a tent with your wife wasn't stressful enough (remember, it's a "relationship building" exercise), throw in a couple of rambunctious kids running around the campsite, and you start wondering why you agreed to leave the backyard. But if you owned iKamper's new Skycamp, that whole tent would be up and running in under a minute. Relationship saved!
At first glance, the Skycamp could be mistaken for any hard-shell rooftop car carrier. It's sleek and aerodynamic, comes in glossy black or white, and stands 12.6-inches tall closed; slap on a ski resort sticker and nobody's the wiser. Pop open the expandable roof tent, however, and damnnnn … prepare to be blown away. To set it up, literally all you have to do is slide out the integrated telescopic ladder and extended floor, pull it down to the ground, and raise the entrance canopy. That's it. Your kids won't have time to disappear into the woods.
The tent's made of 250D polyester fabric atop a lightweight aluminum/stainless steel frame and aluminum honeycomb panel floor. It measures 43-inches tall by 83-inches wide when open and weighs 150 pounds all in — with hard top and ladder included. And since it uses a universal mounting system, you can even install it on your Kia Rio, as long as you promise to not drive faster than 75 mph — the top speed for the tent on top.
In terms of amenities, there's a high-density memory foam mattress that sleeps 4 (2 adults, 2 kids), a waterproof skylight for stargazing, and an expandable living space with an attachable 3-walled (10-foot by 13-foot) annex or canopy awning. Or maybe you'd just be content with the simple shoe rack that hangs on the outside of your car. Snakes in your boot are thing of the past!
Camping season still may be a few deep freezes away, but note that pre-orders for the Skycamp start on February 27th. That's important, because they offer a $1,000 discount for early orders. The regular retail price will be $2,950. To get the deal, though, you also have to register by email and get your name on their list. Small price to pay for never having to insert another pole A into slot B.
This article was originally published on