Video Review: The Garmin BabyCam
All the pros and cons before you enter your credit card info.
by Dave Baldwin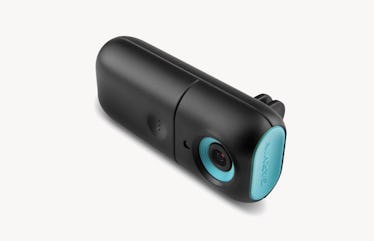 Looking for all of the Best Baby Gear of the Year, from jogging strollers to baby carriers? Click right here.
No need to turn around while you're doing 80 mph on the highway. Garmin's new BabyCam video baby monitor displays a view of the back seat of your car (and your kids secured in a car seat) on nearly any Garmin GPS unit, as well as a host of other compatible GPS systems. Just tap the navigation screen (assuming you have one in the first place) and you can see your child napping, screaming, vomiting, or cursing at other drivers with minimal eye-shifting. Here's what reviewers liked and didn't like about the Garmin BabyCam.
Pros:
It's easy to pull the video feed up on your GPS screen and it "seamlessly shifts from GPS to video monitor via the touch of the babyCam icon right on the navigator," notes Tech Times. "You can also bark a voice-activated command to switch from GPS navigation display to BabyCam view."
If you're one of those parents who enjoy gazing awestruck at your child for long periods of time, the BabyCam happily lets you set some boundaries. You can program it so your child will only appear on-screen for 10, 20 or 30 seconds. It also automatically returns the screen to navigation mode without having to hit a button. Somewhat hilariously, one Amazon reviewer found the 30-second cap to be a huge flaw.
The baby monitor's built-in night vision ensures you don't risk waking your little one up when you flip on the car's internal lights — you know, to see if they were sleeping.
Finally, Garmin gives you the option of adding up to 4 more cams. And if the NFL has taught us nothing, it's the more angles you can see, the better.
Cons:
While installation involves simply clipping the Bluetooth cam to headrest (if you even call that installation), wirelessly syncing it with you Garmin GPS, ironically, can be somewhat "complicated" says TrustedReviews.com: "You have to put the satnav into pairing mode, then take the batteries out and put them back into the BabyCam to cycle the power. Following this, the process is automatic."
You threw out your Garmin GPS in the mid-2000s because you got an iPhone. There aren't a ton of reviews yet for a niche product that only recently launched, but you and Garmin know the biggest impediment is the fact that your phone has a pretty stellar navigation system baked in.
Similarly, you can use a rear-seat mirror for a fraction of the cost. As TR concludes: "At around $200, it's a little pricey for a device with only a single, very narrow usage."
This article was originally published on