The 8 Coolest Gadgets From Mobile World Congress 2017
Including a foldable scooter and phone charger that fits in your wallet.
by Dave Baldwin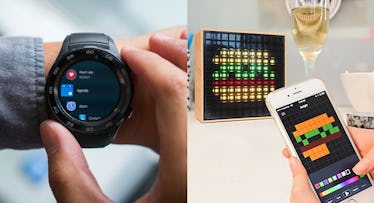 The mere thought of buying your kid their own phone might cause you to break out in a cold sweat, but that doesn't mean you should bury your head in the sand. Just knowing what cool new devices you'll refuse to let them have can't hurt, right? For the last 30 years, the mobile industry has gathered to showcase the latest and greatest new tech. This year was no different. The annual World Mobile Congress just wrapped up in Barcelona this week and here are 8 of the coolest, more family-friendly gadgets on display.
Nokia 3310
Yes, this is a rebooted version of your favorite 'dumb' phone from the early aughts, and it's going to make a great starter phone for your suddenly hip 5th-grader. Sleeker than the original (but equally as tough), it has a 2.4-inch color display, comes in 4 colors, and uses 2G connectivity for voice, text, and light internet surfing. Even better, while the phone has a 2MP rear camera with flash, there's no front camera (meaning: no selfies). Bonus: this tank can go nearly an entire month between charges.
Kado Ultra Thin Phone Chargers
Kado's soon-to-be-released smartphone/laptop chargers are billed as the world's thinnest. The Wallet, which is designed for phones and tablets, measures a mere .2-inches thick, features folding prongs and 2 feet of retractable cable, and can handle USB Type-C, micro-USB, or Apple Lightning. The laptop Sleeve (pictured above), on the other hand, is a little thicker, folds in half, and also includes an additional USB port so you can simultaneously charge your phone.
Sony Xperia Touch Projector
Think of the Xperia Touch as a cross between a projector and an Android tablet, and it turns any surface into an interactive touchscreen. Which means whatever you would touch or swipe on the screen ⏤ be it Facebook, Skype (there's a 13MP camera for calling grandma), or a game of Mahjong ⏤ you're now accessing on the wall or kitchen table. Or, you know, you could just use it to watch those monster machines on the big screen ⏤ the 1366×768-resolution image casts as large as 80 inches.
Divoom Timebox Portable Bluetooth LED Speaker
This colorful Bluetooth speaker/alarm clock may be reminiscent of your old Lite Brite, but it's definitely no toy. Sure, you can spend hours creating fanciful pixel art images/animations (using the app) that project on the box thanks to its 121 LEDs, but it also does about a hundred other things. It plays music from any connected device, displays the time/room temperature, has a built-in FM receiver, and comes with 22 white noise tracks (from frog, to ocean, to storm). Not only that, but thanks to the integrated microphone, you can use it to make hands-free calls or just leave the kids voice messages for when they get home from school.
Porche Design Book One
Not having a business degree, it's tough to question the strategy behind Porche's jump from luxury sports cars into the highly competitive computer market, but hey, they did it! Billed as a competitor to the Microsoft Surface, the Design Book One rocks a brushed aluminum body, 7th-Gen i7 Intel Core processor, and 14-hours of battery life. Whether it spends half of those hours at the Geek Squard being repaired every week is anybody's guess.
Archos Airwheel Urban eScooter
This foldable French commuter has an aluminum alloy body, 8-inch tires, and an electric 350W motor that can take you 15 miles from your kids on a single 3-hour charge. It also rocks front/tail lights, an accompanying app to track speed and how much juice is in tank, and a USB port to charge the phone so you can actually check said app. All told, the eScooter weighs around 30 pounds and folds up kind of like an umbrella stroller.
Huawei Watch 2
Considering how much your kids play with your phone these days, wearing a smartwatch isn't such a bad idea if you want to stay connected. Huawei's sporty second-gen version of their Apple Watch competitor is targeted to those who like to sweat, and is equipped with GPS, a fitness tracker/heart-rate monitor, and even a "professional running coach." You can change the watch face with a swipe of the screen, and it's got 4G connectivity so you can make/take calls on the go. Or, you know, while your kid's playing Peekaboo Barn on your phone.
HoloCube by Merge
The latest add-on to Merge's virtual-reality goggles, HoloCube is an augmented reality toy that lets kids hold a damn hologram in their hand. Seriously, who'd of thunk it back when you were playing on a Commodore 64. Reportedly, the phone's camera scans the cube and the AR tech generates one of 12 experiences, so your kids can see everything from parts of the human body, to virtual pets, to Princess Leia pleading for Obi-Wan Kenobi's help?
This article was originally published on