The Coco Color Stylus Turns Any Tablet Or Smartphone Into A Coloring Book
You'll never have to wash crayon off the walls again.
by Dave Baldwin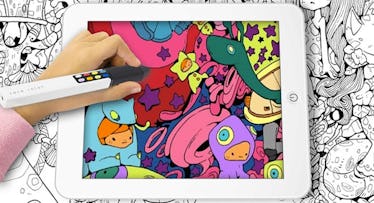 For all the benefits that come from kids coloring — it's calming, fosters creativity, gives you some well-earned quiet time — it's not without a drawback or 2. Namely, your walls need repainting every other day. With the Coco Color Stylus they can color until the electronic ink runs dry (which is never), and you get to skip the trips to Sherwin Williams.
Think of the Color Coco as a 21st-Century version of that fat 4-color click pen everybody wanted in elementary school. It's a giant, battery-operated writing implement that kids can use to color/draw on any smartphone or tablet. Actually, with 4 styles (pen, pencil, pastel, and paint brush) and 48 base colors, it's more like an entire art set. Each mode features 4 stroke sizes and each color includes 6 shades, for a grand total of "768 stroke, color, style, and size combinations." That's 768 crayons and markers you don't have to scrub off the damn floor. Just press the buttons on the stylus (which doesn't need to be paired to the device, by the way) and the stroke/shade options appear in the accompanying apps.
And speaking of apps, that's where your kids will make all their fanciful awwwrt. There are currently 2 free ones available for download: Voyages, which takes your young Degas on "12 huge fun & magical" journeys through space, cities, oceans, and jungles; and Doodle — a more freeform canvas for drawing whatever catches their fancy (and then sharing it on social media, of course).
As Coco requires a light touch (with "a smooth glide"), it's designed for ages 7-12 and adults. But a preschool version for kids who don't know their own strength and press down with brute force when they write is in the works. Just think of it as a few cans of paint away.
This article was originally published on