The Boon Bottle Drying Rack Makes Washing Baby Gear Less Tedious
Best part: It works great for glassware too.
by Dave Baldwin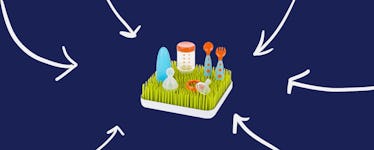 No task hammers home the daily routine that is new parenthood like washing bottles. Every nap, every night, the same tedious rigamarole: pour out the milk, scrub the bottle, do a hard-target search for the caps and nipples among the pile of dirty dinner dishes. Wash, rinse, repeat.
If you're lucky and don't have a dish drying rack that can hold them, you also get the fun of laying out a paper towel and balancing the bottles ever so carefully, only to accidentally knock them over while putting away a dish. It's a chore no new parent would dare complain about, but damn does it get old.
It can, however, get easier. At least that's what I found when we received Boon's $16 Grass drying rack as a gift. Like a little bottle-drying putting green, the square two-piece rack uses elevated flexible "blades of grass" to secure the upside-down bottles while they air dry. The water drips down to a tray below and the bottle's mouth never has to come into contact with the rack or countertop. It's a clever design. There's even a stick tree on which to hang the ringed caps and nipples. And while we don't have any other grass appliances, it still looks smart on our kitchen counter.
My favorite attribute of the Grass, however, is that it's like a blank canvas. You can put the bottles ⏤ as many bottles as you can fit ⏤ anywhere you want on it, and in any configuration. There are no rigid poles or designated spots that, once occupied, render the rack filled. Just the opposite, you can actually squeeze more bottles in along the outside row of grass, allowing them to hang off the side. The Grass is both easy to clean and ⏤ thanks to a white tray that shows dirt ⏤ easy to tell when it needs to be cleaned.
Honestly, the biggest compliment I can pay the Boon is that my daughter hasn't used a bottle in two years and yet it still sits next to our sink. We use it to dry glasses, coffee mugs, and sippy cups. In fact, the tree's branches are actually better for sippy cup straws than they are for the bottles nipples, which admittedly were easy to knock off.
In the end, nobody enjoys washing bottles eight times a day. But short of buying a dishwasher, that's exactly what you'll do. At least for us, Boon's Grass made the whole tedious affair that much less frustrating.
This article was originally published on