The BioLite FirePit Is One Seriously High-Tech Campfire
by Skimlinks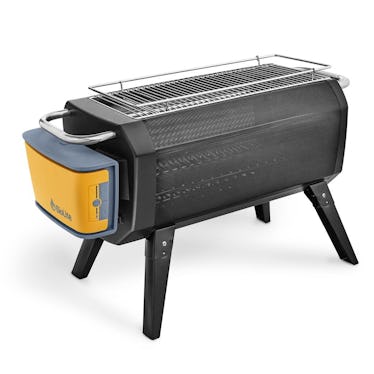 The following review has been syndicated from Skimlinks, the leading commerce content monetization platform.
Between their consistent innovation and their dedication to positive social impact, you can't not love Biolite. Their camping stoves, like the excellent CampStove 2, are best known for their magic trick of harnessing the energy from your fire to charge your devices, and perfectly suited for their intended occasions. Their FirePit is a far more universal product, fuel agnostic and ready for your campsite, backyard, truck bed, or balcony.
The BioLite FirePit retails for $200 and weighs just under 20 pounds. The side-mounted 10,400 mAh battery pack aids in combustion and reduces smoke to almost zero with strategic oxygen circulation, and can go for a full 24 hours on the lowest setting. While the FirePit can't turn its heat into additional juice for your iPhone Xs Max, it can recharge itself via solar using an optional but highly recommend $60 cover.
With adjustable grill heights, adjustable fire intensity, and the ability to burn wood or charcoal with the space for 4 standard firewood logs, the FirePit lets you burn it your way. Best of all, both sides of the Pit are mesh, giving you an unobstructed view of your flames whether you're cooking or just looking.
The BioLite FirePit created the least smoke and offered the most control over flame height, making it an ideal choice for balcony dwellers who want something beyond an electric grill.
While it would have been nice to have the Solar Carry Cover as a standard pack-in, the BioLite FirePit is a standout. More importantly, it's the Biolite product that most regular people will get the most use out of by far, and the most enjoyment.
Every product on Fatherly is independently selected by our editors, writers, and experts. If you click a link on our site and buy something, we may earn an affiliate commission.
This article was originally published on