Best Kids Learning Games
by Fatherly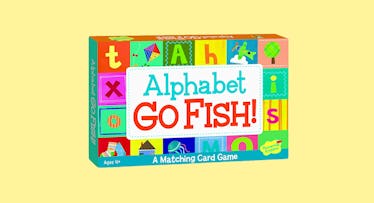 We know board games are great for kids. So we went one step further and found board games that have a little something extra to offer: they're learning games.
Sitting down to play a board game can teach your kids cooperation and how to take turns. But why stop there? Pre-schoolers can start to recognize letters and numbers. Readers can learn to manage money. And everyone can work together to help a very badass bug get home.
What a great concept. Kids five and up heighten their observation and memory skills, and get a dash of cultural awareness as well.
Toddlers learn the basics of counting and spelling, while also having a good time.
The game includes 20 chunky plastic blocks, 20 activity cards, an activity guide and has four different shapes and three different attributes.
In this matching card game for kids four and up, players ask for the match to their alphabet letters and make pairs to win the game.
Kids four and up will be into this game, which is a best-seller and has pre-schoolers engage in a fast-paced matching game that builds language and reading skills.
Think of this as your toddler's first major introduction to letter and word recognition, matching, and spelling. In a very fun setting.
It's easy for kids to play on their own, and the concept is sweet and non-competitive.
Kids eight and up are given real-world scenarios and decide wether to spend or save their cash. The kid with the most savings wins.
Every product on Fatherly is independently selected by our editors, writers, and experts. If you click a link on our site and buy something, we may earn an affiliate commission.
This article was originally published on