The Best Valentine's Day Gifts for Moms With Little Kids
From grownup beanbags to sexy "mom" briefs to aromatic oils that reduce "irritability," there's something for every new(ish) mom.
by Alexis Barad-Cutler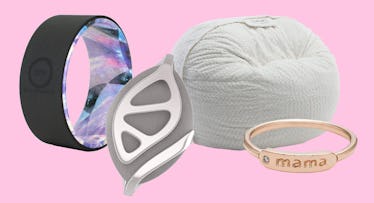 Valentine's Day takes on a decidedly different vibe when you have young kids. Romance is still nice, sure, but it may not necessarily be as nice as extra sleep or not having to cook chicken nuggets for dinner. Similarly, Valentine's Day gifts for moms with babies or toddlers differ from the gifts you might have bought your spouse before you were parents. Again, sexy lingerie is still totally fine, but it may not be as well received as, say, exotic bath salts or an afternoon in an empty house. It's all relative. To help you navigate the tricky waters between realism and romance this Cupid's Day, here are 12 gifts that are perfect for the new(ish) mom in your life.
Lunya Pima Long Cardigan
An elegant upgrade from that old robe currently covered in spit-up, this cozy, extra-long, never-take-it-off cardigan by super luxe loungewear brand Lunya is made of 100-percent prima cotton and rocks deep side patch pockets. Better still, it's machine-washable, for the very likely scenario that spit up lands on it.
Lovesac Supersac
Essentially a beanbag for adults, the Supersac is a crazy soft 6-foot-wide by 4-foot-tall "cloud you can climb on." It's filled with premium shredded Durafoam, seats two adults, and is fully customizable with one of 13 velvet of "phur" covers.
Phaiser BHS-730 Bluetooth Headphones
Give the mother of your children the gift of not listening to screaming kids with a pair of these highly rated and insanely popular sports buds from Phaiser. They're sweatproof, magnetic (so she can wear them around her neck when not in use), and play for eight hours on a single charge ⏤ so 7.5 hours longer than she'll need for any one workout.
'Mother' Bikini Briefs and Socks
If you're going with socks or underwear as a gift, it's important they're either sexy or cool. These vintage-inspired, calf height tube socks that read "Mother Superior" and three-pack of cheeky cotton briefs with the word "Mother" printed along the waistband are most certainly both.
French Girl Organics Rose and Ylang Sea Soak
All the rage in the beauty world, this cult brand's jar of sea soak is made up of four salts that have been infused with rose and Ylang, or the scent of a tropical Indonesian tree. In the end, she'll not only smell amazing but her skin will be silky soft too.
My Story 'Mama' Signet Ring
Assuming nothing on this list of jewelry under $250 catches your eye, go for the major splurge with a diamond-embedded, 14k yellow gold signet ring engraved with the word "Mama."
Dharma Yoga Wheel
This simple-looking wheel ⏤ insanely popular among yogis ⏤ helps increase flexibility, build strength, and, most importantly, release tension and tightness.
Anthropologie Viteri Hanging Frame
For the sentimental woman, Anthropologie's artsy glass and brass picture frame is perfect for hanging a nice photo of the family and/or your kid's finest finger painting.
Bellabeat Urban Leaf Fitness Tracker
Worn as a necklace or bracelet, the geometric Urban Leaf looks more like jewelry than a fitness tracker. Don't be fooled, though. The little silver device not only monitors exercise, sleep, and reproductive health (gulp), but also helps predict stress and lead her through meditation exercises.
Welcome to the Club By Raquel D'Apice
Because laughter helps make life with young kids hurt less, "Welcome to the Club" is a funny book about parenting milestones that walks readers through each stage of having a kid with honesty and hilarity. (FYI: It's also a great book to enjoy together.)
J. Crew Gold Tassel Earrings
Perfect for a much-deserved date night, these art-deco-inspired tassel earrings come in one of four colors, including vivid sea and fiery sunset.
Tata Harper Irritability Treatment
For the wife who can absolutely take a joke, this vial of aromatic oils (Jojoba, Meadowsweet, Arnica, etc.) is designed to "lessen feelings of irritability, frustration, and negativity while inspiring a sense of peace and inner comfort." Which means if she doesn't react well to the tongue-in-cheek label, just make sure she applies and inhales immediately.
This article was originally published on