The Best SUVs and Crossovers for Every Kind of Dad
The only thing better than have a great car is having a great car suited to your lifestyle.
by Mark Silverstein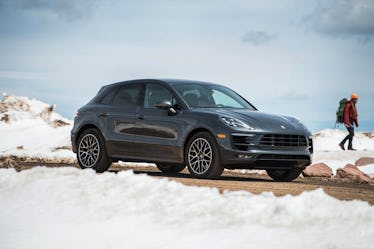 The family SUV is certainly not a new concept, but its definition has arguably changed more than any other type of family-friendly car in recent years (and less than, you know, supercars). A genre once typified by Bronco-like vehicles that had more in common with small and large pickup trucks than cars came to be defined by extreme competition between brands looking to offer drivers comfort, convenience, and just a bit of matchbox car-style fun. Now, as crossovers proliferate, the defining characteristics of an SUV are increasingly hard to separate from the features of reimagined station wagons. That said, this is not the twilight of the SUV or the era of the insurgent crossover. There are simply a lot of great new family car options — and a long list of best SUVs and crossovers.
RELATED: The Best Luxury Cars, Trucks, and SUVs
There's something for almost everyone, which one of the chief reasons why SUVs and crossovers have been the fastest-growing segment in the industry for quite some time. With that in mind, these are the best SUVs and crossovers for virtually every kind of dad.
Best SUV and Crossover For Dads With Tons of Kids: Ford Expedition
MSRP: $51,695
Why you should buy it: When the Expedition burst on to the scene over two decades ago, it was a cavernous testament to the allure of hitting the open road with a big family. The SUV ostensibly replaced the Ford Bronco, which had gotten some bad press through no fault of its own, but had less of an emphasis on off-road capability and a clarion focus on highway manners.
Now in its fourth iteration, the Expedition comes a vast assortment of technologies and family-friendly features. As if it weren't clear enough what the target demo for this beast was, the cargo area behind the third-row seat has a shelf that seems specifically designed to better organize kids' soccer shoes. But Ford isn't ready to sacrifice power for accouterment. There's plenty of torque from Ford's turbocharged 3.5-liter V6 EcoBoost engine, so towing's not a problem, even with a slew of kids in back.
Best SUV and Crossover For Dads With Just One Kid: BMW X2
MSRP: TBD
Why you should buy it: For those who think the lines between SUV, crossover, and car are getting too blurry, BMW presents the X2. It hits dealerships in spring 2018, and as maddening as the pint-sized crossover is for those who really need to define what they drive, it's just about perfect for anyone who really just wants a sports sedan, but needs more room.
It's not meant for off-roading — no one has driven it yet, but it should be well-suited for backroad jaunts — you can expect it to be a pretty much ideal compromise with enough real-world practicality to let you come across as a mature dad, but enough fun built in to keep a smile on your face. Pricing details will be announced next month, but expect it to start in the mid-$30,000 range with 228 hp, with options that will take it as high as your wallet desires.
Best SUV and Crossover For Divorced Dads: Alfa Romeo Stelvio
MSRP: $41,995Why you should buy it: The words "sex appeal" simply do not apply to most SUVs. Then again, all but one of the world's SUVs aren't built by an Italian motoring icon with a century-old tradition of building many of the world's most drop-dead gorgeous vehicles. This isn't the fastest SUV, or the most expensive, or the most off-road capable. Absolutely none of that matters with Alfa Romeo's Stelvio, which takes its name from one of the most famous and daunting switchback roads in all of Europe. When you want your date to see what you roll up in, and when it matters how suave you look when you toss the keys to the valet, Stelvio is undoubtedly the winner. The fact that you can keep your kid's baseball equipment in back is just a nice bonus.
Best SUV and Crossover For Very Busy Dads: Toyota 4Runner
MSRP: $34,410
Why you should buy it: Unlike quite a few of the vehicles on this list, 4Runner is definitely not a crossover. It originally traces its roots to Toyota's legendary Hilux, also known as the patron saint of indestructible work trucks. The 4Runner is less station wagon than pickup truck — body-on-frame is the technical term — and that comes with its own set of pros and cons.
Here's a con: The 4Runner SUV doesn't drive with the ease of a family sedan or the grace of a sports car. Here's a prop: It might just be one of the more versatile rides on the market today. It's one of the very few vehicles that would legitimately be equally at home packing kids into the carpool lane, traversing a jagged job site, or crossing the Mojave.
Best SUV and Crossover For Outdoor Dads: Subaru Ascent
MSRP: TBD
Why you should buy it: In some subcultures of Americana, taking a Subaru station wagon on a camping trip is almost a rite of passage. Once you and your camping partner start making more camping partners, you do tend to need more space to bring your myriad campsite trappings. It's not quite on dealership showrooms yet — it only debuted this fall — but the Ascent is basically the three-row, 8-passenger SUV you've always wished Subaru would build.
What does that have to do with camping? Well, 72.6 cubic feet has quite a bit to do with it, actually, since it can hold basically everything you need for a family getaway. While no price has been announced, you can expect it to be reasonably appointed without breaking your budget.
Best SUV and Crossover For Dads Who Want a Sports Car: Porsche Macan Turbo
MSRP: $77,200
Why you should buy it: One of the unfortunate realities of growing up is that sometimes you have to make sacrifices in the name of your children. However, just because you've had to give up your svelte sports car in favor of something a little more practical, there's no reason to give up on driving enjoyment. Enter the Porsche Macan Turbo. With an EPA-estimated 17 mpg in city driving, the crossover doesn't get particularly great fuel economy. It does house a twin-turbocharged V6 under the hood, though, and it puts out 400 hp. Macan Turbo can out-accelerate the 911s of your childhood, and will still out-handle the majority of vehicles on the road — even the sexy-looking ones that don't have adequate room for two carseats and a stroller.
Translation: If you have the means, owning a Porsche Macan Turbo is the automotive equivalent of having your cake and eating it, too.
Best SUV and Crossover For Mountain Dads: Jeep Wrangler JK
MSRP: $23,995
Why you should buy it: Jeep Wrangler is a name that conjures up images ranging from World War II to rednecks playing in a pit of mud and everything in between. It truly runs the gamut and is right up there in the pantheon of American icons with names like Mustang and Corvette. Incredibly, the SUV changes very little from one generation to the next. Take the 2018 Wrangler, for example, which is all-new, despite looking virtually unchanged. That's a good thing, though, since it's unquestionably the best off-roader that doesn't cost an arm and a leg.
The new Wrangler still features those classic removable doors and the throwback fold-down windshield that was a staple for generations. Now, though, it also has a modern edge to it, with LED lights and a revamped interior. If you spring for the four-door unlimited, you also get plenty of room to bring the kids along on your off-roading adventure.
Best SUV and Crossover For Rich Dads: Bentley Bentayga
MSRP: $229,100
Why you should buy it: Speaking of having the means … the rolling superlative that is Bentley Bentayga is perfect for any dad in need of a slam dunk over those pesky Joneses next door. With over 600 hp, this crossover can hit 60 mph faster than all but the most elite sports cars on the planet. Keep your right foot mashed to the floor long enough, and Bentayga's large frame punches through the air at an unbelievable 187 mph.
This is a full-sized beast that's surprisingly capable, should you decide to take it off-road. To be clear, you absolutely shouldn't take a quarter-million-dollar vehicle off-road. The amount of luxury built into the sensuous interior is more than adequate for waiting out even the most egregious after-school pick-up lines.
Best SUV and Crossover For Early Adopter Dads: Volvo XC90 T8 eAWD Plug-in Hybrid R-Design
MSRP: $68,950
Why you should buy it: You can get a Volvo XC90 for under $50 grand, and it's a very nice crossover, to be sure. Step up to the XC90 T8 eAWD Plug-in Hybrid R-Design, however, and you get more than just a very long name. 400 hp is no joke, especially for a vehicle that can achieve up to an EPA-estimated 30 mpg on the highway. That's not why you want the Volvo XC90, though. It's loaded with flashy technology, starting with its hybrid powertrain (87 of its ponies are electric), and continuing right through to its advanced safety systems. LED headlights actively avoid blinding other drivers, so that they're less likely to crash in front of you. Pilot Assist uses various sensors to do most of the driving for you … provided you touch the steering wheel periodically so it knows you're not just reading a book.
Of course, it wouldn't be a Volvo without world-class safety — it's the company that invented the retractable shoulder seatbelt in the 1950s, after all — and XC90 offers a built-in booster seat that's adjustable all the way up until your kid weighs 90 lbs.
Best SUV and Crossover For Style-Conscious Dads: Jaguar F-Pace
MSRP: $42,065
Why you should buy it: Purists cried foul when Jaguar announced it was entering the crossover SUV game…just as they had with BMW, Porsche, and Mercedes. And then something amazing happened: Jaguar dropped the F-Pace on the world, and it was unquestionably all-Jaguar. Spring for the 380 hp supercharged V6, and you'll even be rewarded with some of the same aural notes that come standard on the more famous F-Type.
F-Pace isn't the biggest vehicle on the road, but with 33.5 cu. ft. of cargo area, it easily dwarfs your average sedan in practicality. And with those sexy Jaguar lines, it also dwarfs your average luxury car in style points.
This article was originally published on