The Best Snow Sleds for Kids So They Can Tear Up the Hills
Here are the sleds for the job.
by Donna Freydkin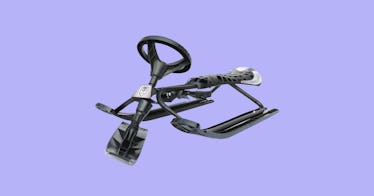 What's better than a snow day? A snow day with a badass snow sled, is what. The best snow sleds for kids let them slide, glide, and race down slick and sleek mountains and hills of glorious, slippery snow. And do so safely. Because nothing ruins the buzz of a great run like a trip to urgent care.
The American Academy of Pediatrics has some common-sense tips for a bruise-free snow day:
Supervise younger kids when they're shredding the slopes.
Have kids sled feet first or sitting up, instead of lying down head-first, to help prevent head injuries.
If you're really into safety, have your kid wear a helmet.
When choosing a sled, opt for steerable sleds, not snow disks or inner tubes.
Any sled you buy should be free of sharp edges and splinters, and the steering mechanism should be well lubricated so kids can, you know, steer with it.
Best Sleds for Kids
Made of a combo of wood and metal, this steerable sled for kids (and adults) is great for children five and older. It holds 250 pounds of humans, and at 14 pounds, is one solid sled.
This thing goes fast. Make that very, very fast, so a helmet would not be remiss here. Thankfully, there's a solid steering wheel along with two brakes. The pull rope has a carabinier attachment so younger kids can be towed by adults. It's great for kids six and up.
Zipfy isn't technically a luge — it's operated from a seated position. Kids steer it using body weight and you can make it stop with your feet. The weight capacity of this thing is 250 pounds.
Best Toddler Sled
This is a pull sled, meaning parents do the work. It harks back to snowy fairytales, and has an elevated riding position that keeps your baby's butt from getting soaked and cold. It also has a double-slat backrest for kids who need extra support sitting up, and fits toddlers 18 months and up. The max weight capacity is 50 pounds.
Every product on Fatherly is independently selected by our editors, writers, and experts. If you click a link on our site and buy something, we may earn an affiliate commission.
This article was originally published on