The Best Bed Sheets To Get a Good Night of Sleep
You'll sleep in cool comfort.
by Elizabeth Alterman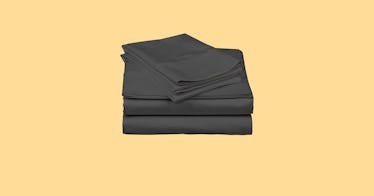 If you want to get a good night of sleep, you need the best sheets. Whether you want sheets that keep you cool, or are wondering about the best thread count for sheets, do a little research before you pick out a set.
"When choosing the right fabric for you, consider factors like whether you naturally sleep hot or cold and what texture you like to feel against your skin. I recommend cool, crisp percale for those who get hot at night. It's extremely breathable. For those that get cold at night, I suggest sateen because the weave is a little tighter. Linen works year round whether you sleep hot or cold!" says Ariel Kaye, the founder and CEO of Parachute Home.
Most of us have heard about the importance of thread count. But what does this refer to exactly? Thread count is measured by how many threads are woven into a single square inch of fabric. The figure typically ranges from 150 (on the less expensive side) to 1,000 (more luxurious, but also pricier). Experts deem 400-600 to be the thread count sweet spot, where comfort meets affordability.
While this thread count can be an indicator of quality and durability, it's not the only aspect to consider. Equally important is what those threads are made of. Cotton has long been considered the go-to fabric for sheets, but within that category you've got extra-long staple Egyptian cotton, the gold standard, and pima cotton, which is soft and deemed superior to your basic, American upland cotton. If cost and easy care are top priorities, wrinkle-resistant cotton-polyester blends may be the preferred choice. But keep in mind these have a tendency to keep sleepers a bit warmer.
Percale is a plain cotton or cotton-blend weave with a clean, crisp feel, making it a popular pick among those who like to stay cool while they sleep. Softer and bearing a bit more weight, sateen may feel almost like silk or satin to the touch, which explains its name, but doesn't bear the heftier price tag.
Because you spend approximately a third of your life in bed, you want to buy the best your budget will allow. We found the top sheet sets on the market, selected across a range of price points. Sweet dreams!
The Best Bed Sheets
Pros: We like the sateen weave on these cotton sheets, and the hemstitching, which adds nice detailing. Plus, they're thick and heavy, if that's your sheet preference.
Cons: Yes, these sheets are really durable. They're also not the softest ones out there.
Pros: These sheets are breathable, wrinkle-free and have a thermal control feature that adjusts to your body and your room temperature. If you have night sweats, or just run hot while you sleep, these could seriously improve your shuteye.
Cons: These sheets are soft, and thin.
Pros: Ideal for those of us who get heat at night, these bamboo sheets keep cool in warm weather and perfectly warm during cooler months. They're breathable, and super-soft.
Cons: These tend to pill, so wash and dry with caution.
Pros: These sheets have cooling properties for hot sleepers, and are made from a combination of polyester and spandex. They wick away moisture while you sleep, so they're ideal for hot sleepers in hot climes.
Cons: They tend to be slippery, and don't have the density of cotton.
Pros: If you like your linens to be smooth and silky, these are your sheets. They're 400 thread count, are made from minimally-processed organic cotton, and are ideal for year-round use. The fully elasticized fitted sheet has 16 inch deep pockets for deeper mattresses.
Cons: They can lose their sheen, in some cases, after going in the dryer.
Pros: These could some of the best affordable organic cotton sheets, period. They're 100 percent Global Organic Textile Standard (GOTS) certified. They're 300 thread count, sized to fit mattresses up to 15 inches, and feel luxurious and thick.
Cons: Make sure they're deep enough to fit your mattress.
Pros: More than 51,000 Amazon shoppers love these sheets. They come in a variety of colors, and are durable and soft. Manufacturer Mellanni is so confident consumers will adore these sheets, they offer a lifetime guarantee. Send a single email complaint, and receive a 100 percent, money-back refund, no questions asked.
Cons: In some cases, the elastic wasn't strong enough to hold the sheets in place overnight.
Pros: These sheets don't pill. They're made from flax grown naturally in Belarus, and are bleach-free. They're the epitome of eco-luxury. The fabric stays cool even when it's hot out.
Cons: If you tend to run cold at night, linen is not for you. And the fabric can be too rough for some.
Pros: Doing right by the earth and your bedroom, these sheets are made from sustainable materials, yet at the same time, they look elegant — and expensive. Fortunately, they're both wallet- and environmentally-friendly.
Cons: These sheets are thin. Unlike cotton, bamboo doesn't get softer the more you wash it.
Pros: These sheets stay put. Thanks to four-way elastic around the fitted sheet and an 18 inch extra deep pocket, you won't have to worry about getting up to retuck anything during the night.
Cons: If you want sheets that are wrinkle free (without doing any ironing), then 100 percent Egyptian cotton is not for you.
Pros: You'll feel good both physically and spiritually knowing that your bedding is made from organic cotton imported from Fair Trade Certified Farms and Factories in India. It feels like you're sleeping in super-soft silk and the more you wash them, the better they get.
Cons: These sheets aren't cheap.
Pros: Enjoy the long-lasting comfort you'd find at a luxury hotel at an affordable price. The sheets are tight-fitting, and are made from fade-resistant dyes.
Cons: These sheets wrinkle easily.
Pros: While these sheets are cool and crisp, they're not rough or scratchy. In fact, they get softer the more you wash them.
Cons: Those who like to tuck in the top sheet may wish it were a bit longer.
Pros: You get yarn dyed linen made from certified European flax and the fitted sheet has a continuous elastic hem and fits mattresses up to 16 inches deep. It's a mix and match situation, so you can play around with patterns and colors.
Cons: You don't get a top sheet with this set.
Every product on Fatherly is independently selected by our editors, writers, and experts. If you click a link on our site and buy something, we may earn an affiliate commission.
This article was originally published on