The Best Rock Climbing Gear For Kids
Some key pieces of gear all little wall-scalers need to be safe and happy on the pitch.
by Ali Carr Troxell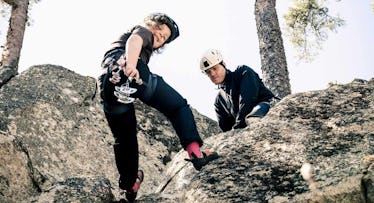 Rock climbing with little kids takes less gear than you'd think. In fact, to get started, all you need is a climbing gym — they'll supply the gear, the routes, and the fun. But, once you intend to have them join you in the actual outdoors, it'll be time to invest in a few key pieces like a harness, helmet, and shoes. They can share most everything else with you — chalk bag, ropes, carabiners and more. Because your kids will probably spend most of the time hanging from the rope or on the ground at the crag, we've rounded up a few extra items that might come in handy while you're enjoying some time on the rock.
Kids Rocking Climbing Gear: Harness
Why: Kids need harnesses if they want to climb anything that involves ropes (i.e. anything beyond bouldering).
What You Should Look For: Kids' rock climbing harnesses were originally one-piece full body contraptions —which helped keep them upright — that would only last until your kid outgrew it. Now, you can invest in a two-part harness. The two parts are made up of a vest and a traditional harness, each with its own tie-in point, that allows your kid to grow with it; once he or she is big enough, you can retire the shoulder portion and just use the regular harness.
We Like: Petzl's Body ($30) and Macchu ($50) harness set. The Body shoulder straps complement the Macchu seat harness to help keep kids with undeveloped hips from inverting. Plus, kids learn how to tie the knot correctly right from the start using the harness's two-point tie-in system.
Petzl's Body
Macchu
Kids Rock Climbing Gear: Helmet
Why: Protect that little noggin' from intercepting with the rock and from rock fall when he or she is hanging out down below.
What You Should Look For: For the most part, a bike helmet will work fine but finding one that can serve double-duty (and is safety-certified for both) is even better. Safety certification from the International Climbing and Mountaineering Federation (UIAA)—the organization enforcing the highest level of safety standards for climbing—shows that climbing helmets can withstand force from masses falling from above, side and front. Also, adjustability is key so that the helmet can grow with your child.
We Like: Petzl's Picchu Helmet ($60) which is certified for both cycling and climbing, and fits children ages 3-8 years old. Reflective stickers let kids personalize the helmet while adding safety.
Kids Rock Climbing Gear: Shoes
Why: If given the choice, most little monkeys will climb barefoot. That's because climbing without shoes on gives them the best possibly dexterity and wall/rock feel for successful ascents. But, it's best to keep those tootsies protected.
What You Should Look For: Kids shoes that have a good amount of flex in the sole as well as in the upper. Climbing-specific shoes may be a splurge, given that kids feet grow at insane rates, but their sticky rubber bottoms and abrasion-resistant suede are built to stand up against rock.
We Like: La Sportiva Stickit shoes ($48), which are easy to get on and off thanks to an elastic lacing system. Also, because the elastic wraps around the heel, they can be shortened or lengthened with a knot to accommodate growing feet.
Kids Rock Climbing Gear: Ripstop Pants
Why: As kids learn to ascend rock, they'll rub against it constantly. Ripstop fabric is rugged enough to stand up to it and will also keep their little knees from getting scraped.
What Should You Look For: Lightweight pants made of ripstop material or that have reinforced knees. Bonus if they are breathable, water-resistant and have some stretch.
We Like: Patagonia Baby Baggies Summit Pants ($35), which has lightweight, yet durable, fend off precip with a DWR-coating and protect from the sun with 50+ UPF.
Kids Rock Climbing Gear: Sunglasses
Why: Kids who are outside all day should get as much eye protection from harmful sun rays as adults do.
What Should You Look For: Rubber frames as well as impact- and shatter-resistant lenses are key for curious toddler-hands and habits—whether pulling them apart, twisting them or dropping them and stepping on them, your kids will do best with frames that are virtually indestructible. And you won't end up buying pair after pair.
We Like: Babiators Navigators ($20), with 100 percent UVA and UVB protection, rubber frames and styles that fit from newborn to six and up.
Kids Rock Climbing Gear: Crash Pad
Why: If your child is still taking naps, a crash pad provides a sufficient place to attempt this seemingly-impossible feat, yes, at the crag.
What Should You Look For: Besides providing a comfortable place for your little one to sit and play, a crash pad can also double as a safety device should you plan to do some bouldering. Look for something that folds up and has straps for portability, like shoulder straps and a waistbelt.
We Like: Black Diamond's Drop Zone Crash Pad ($250), which is an affordable (as far as crash pads are concerned) mid-size version with a strap for carrying extra goodies like shoes and chalk inside.
This article was originally published on