The Best Retro Game Consoles For Kids & Adults
Which one do you want to put under the tree this year?
by Brendan Charles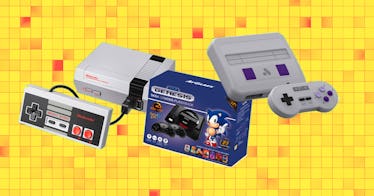 In case you haven't noticed, we're currently in the middle of a retro gaming renaissance. And today's thriving gaming industry owes itself, in large part, to the incredibly awesome gaming systems we grew up with. Nintendo, Atari, Sega, who wouldn't want to kick back and play some old-school Zelda after the baby goes down ⏤ or better still, introduce your kids to the video games that shaped your youth?
The nostalgia-fueled explosion of retro game consoles has been a slow build over the past few years, but with Nintendo finally entering the mix, things have gotten nutty. With limited production runs and high demand, a lot of stores can barely keep products on the shelves.
Generally, these game consoles are miniaturized versions of their retired units and carry a curated library of 'greatest hits.' They plug into modern TVs (mostly using HDMI), offer up-scaled graphics, and boast features nobody knew would exist back in 1986 to enhance that retro-gaming experience. So, which on this list of best retro game consoles is for you (or your kid)? It probably depends on the era in which you grew up. Which is why we rounded up the top picks from the last 30 years.
NES Classic Mini
The nearly impossible-to-get NES Classic Mini retro game console boasts 30 built-in games including Donkey Kong, Double Dragon II, and Mario Brothers. It connects to the TV using HDMI, offers multiple graphics modes, and comes with one controller ⏤ although, it's also compatible with select Wii controllers if you have any of those in a box somewhere. Unfortunately, Nintendo isn't selling the NES Classic again until 2018 so Ebay or Amazon are your best bets for the time being.
SNES Classic Edition
While the SNES' library of video games is slightly smaller than its predecessor (only 21 games), you still get all your favorites like Super Punch-Out!!, Legend of Zelda, Street Fighter II, and Super Mario Kart. The retro game console comes with two controllers instead of one, and they both have longer cords this time so you're not forced to sit directly in front of your 65-inch TV. Even cooler, the SNES includes a previously unreleased version of Star Fox 2. Also, having just debuted in September, you can actually still find in stores.
Sega Genesis Flashback
The Sega Genesis Flashback HD might not be an official Sega release, but that shouldn't worry you in the least. If you're a fan of Sonic, Phantasy Star, Golden Axe or Mortal Combat, welcome home. Unlike Nintendo's two throwback systems which include built-in games, the Flashback rocks an actual cartridge slot. So don't forget to check your parent's basement for old games when you're home for the holidays. The Sega's controllers are wireless but be warned: response times are reportedly a touch slower than their wired counterparts.
C64 Mini
The C64 Mini is a pint-sized version of the most popular home computer ever sold, the Commodore 64. While it doesn't officially hit the market until early next year, the C64 will come with a classic joystick, save-game function, and 64 built-in games, including Epyx Winter Games, Hunter's Moon, Pit Stop II, and Cyberdyne Warrior. It will also have a pair of integrated USB ports for a second joystick or keyboard, so it can also be used as a "fully functional home computer." Although whether you can make the screen infinitely scroll "John is cool" is anybody's guess.
Atari Flashback 8 Gold
When most people think 8-bit video games, they think Atari. Breakout, Centipede, Frogger, Space Invaders, all the classics you played in your buddy's basement every day after school. The Flashback 8 retro game console offers rich graphics, an HDMI output, and two wireless controllers ⏤ although it also has two integrated wire ports and can use original controllers. It can be a little tricky to find but if you don't need the HDMI connection, the Flashback 7 Deluxe is a solid alternative.
Hyperkin Smartboy
The Hyperkin Smartboy is a case/controller hybrid that slides onto your Android phone and allows you to play Game Boy and Game Boy Color cartridges. The case is adjustable to fit different sized phones but uses a USB C connection, so only newer generation phones are compatible. Still, the satisfaction of playing Pokemon, Wario Land or Link's Awakening on your smartphone with real buttons is hard to beat.
This article was originally published on