The Parents' Guide to a Fully Loaded Bug Out Bag
If disaster strikes, you'll be very glad you have them.
by Hudson Lindenberger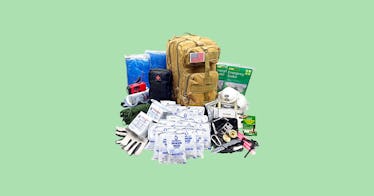 Pray for the best, they say, but prepare for the worst, and that means having a bug out bag at the ready. In 2020, both urban and rural families have had their fair share of emergencies, fleeing brushfires, evacuating after earthquakes, and fleeing from the path of hurricanes. When every second counts and every item is critical, you want all your necessaries and creature-comforts in one compact package. What you want to grab is your fully stocked go bag, and we're here to tell you how to purchase a pre-made option or build your own.
Whether you're auditing an assembled bug out bag or building yours from scratch, it's never been easier to be well prepared for the unexpected. A well-provisioned pack includes everything you and your loved ones need to make it through 72 hours, including first aid supplies, water, basic survival equipment like flashlights, shelf-stable snacks, and tools to construct a basic shelter. While many companies have pre-assembled go-bags, they should all be viewed as a starting point, customized to your family's individual needs after it enters your home. If the greatest fear for a parent is the unknown, a well-stocked bug out bag goes a long way to ease the fear of "what if."
Every product on Fatherly is independently selected by our editors, writers, and experts. If you click a link on our site and buy something, we may earn an affiliate commission.
This article was originally published on